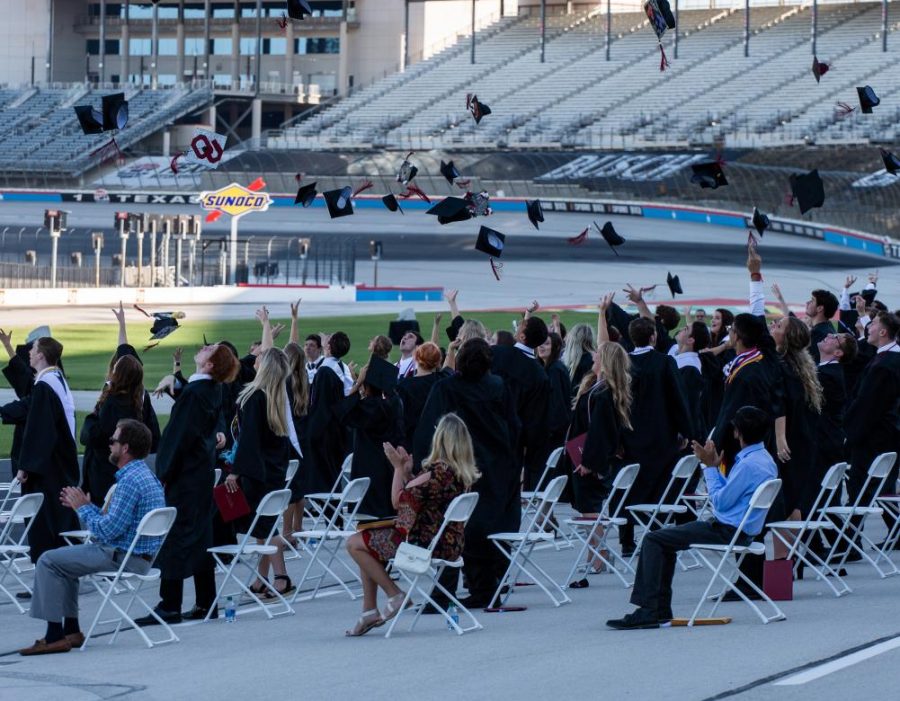 Seniors Cross Finish Line
May 20, 2020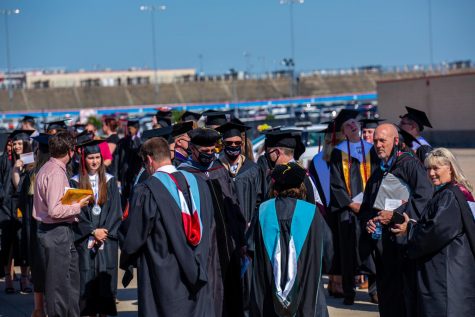 Social distancing. Pandemic. Quarantine.
For the Class of 2020, these are the things they will remember most about their senior year. Besides missing the typical spring senior year events such as prom (which is still on for this summer), sports and UIL events, this year's graduating class also faced the great coronavirus pandemic.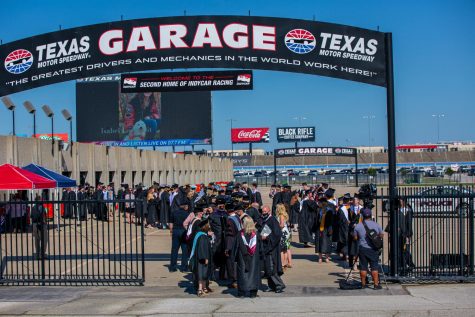 To honor the senior class while also following social distancing guidelines, a graduation ceremony was held at the Texas Motor Speedway on May 18. Seniors sat six feet apart on the straightaway of the track and received their diplomas underneath a tent from a faculty member. Family members sat in their cars in the infield while they listened to the ceremony on the radio and watched live on the 'Big Hoss TV.' Additionally, the event was broadcast live through YouTube so people could witness the ceremony from the comfort and safety of their home. 
"I think it was executed as well as it could've been," senior Avery Hill said. "I guess the ceremony compensated for the loss that we had this senior year. Overall it was really nice to see how hard other people worked to put together a graduation for us despite the circumstances."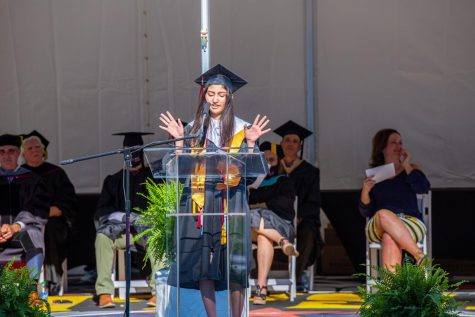 When the seniors were released for their Spring Break vacation, they did not realize that their list of lasts had come to an end. Last time walking the halls. Last time visiting their favorite teacher. Last time sharing Mega Lunch with their friends. 
"I can't remember much of my last day of school," senior Gracie Williams said. "I didn't thank my teachers as I walked out of the building or even take a moment to appreciate the feeling of walking the halls as a senior."
The school district worked hard to make the graduation the best they could for the students while complying with all safety guidelines. While students waited for the ceremony to begin, they were required to stay in a warehouse located next door to the track. 
"I think the graduation at the speedway went the best it could," senior Tatum Earp said. "It just wasn't a great situation. It was two plus hours of sitting in the heat, and none of the rules of social distancing were at all enforced."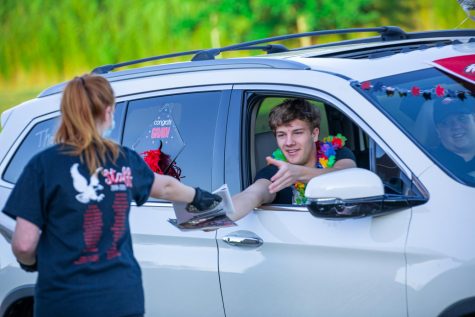 Although their senior year was not at all how they expected, the seniors appreciate how the community came together to make their final year of school special. 
"I really admired how much the teachers and the administration worked to ensure that we felt special and accomplished no matter what," senior Jaclyn Harris said. "I feel like we've gotten so caught up in feeling bad for ourselves that we forget to take the time and be grateful and that's really sad. Seeing the smiles on everyone's faces and getting to see some of my classmates for what could be the last time was amazing. Given the circumstances, I wouldn't change it for the world."