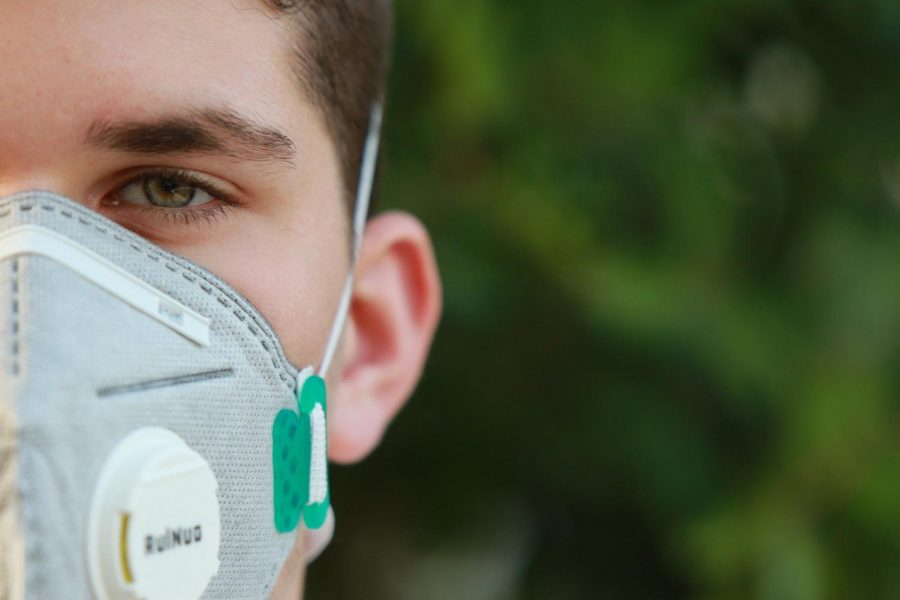 ©The Talon News | Halle Malpass
Community Deals with COVID-19 Shutdowns
April 27, 2020
Due to the outbreak of Covid-19 and the social distancing put in place to prevent further spread, many have resigned to working from home while others struggle to keep their businesses afloat and navigate the new social and economic landscape. 
"The most challenging aspects of quarantine have been implementing a new routine and solving these new problems as they happen," manager at Kimzey's Coffee Albright Berklee said. "Especially with the rapidly changing news and guidelines towards the beginning of the pandemic."
Those dubbed 'essential workers,' including first responders and medical professionals, hospitality industry workers, and grocery store workers, are on the front lines daily, trying to serve the community while keeping everyone as safe as possible. 
"It's been challenging knowing that this virus can be carried without presenting any symptoms," Berklee said. "We interact directly with so many people each day and it can be overwhelming to think that even with all of the new sanitization efforts that we've added to our already strict cleanliness standards, we could be spreading this without realizing it."
Face-to-face businesses have been implementing safety precautions such as requiring gloves and masks and limiting to drive-thru or delivery only, while other businesses and aspects of life, such as schools, have been moved entirely to an online platform. 
"It is difficult to maintain the same level of interaction with students," UIL Coordinator and AP/Dual chemistry teacher Kimberly Kass said. "Even with live video learning opportunities available, not all students participate, and group dynamics are different which creates more of a challenge in terms of identifying student needs and fostering effective group interactions."
This can especially cause problems for those with less experience communicating digitally. 
"I've honestly felt illiterate in a lot of ways cause I don't know anything about the digital world," campus pastor at Crosstimbers Community ChurchJamie Mullins said. "That's been challenging because I don't feel equipped for the task at hand. It's put me in a position to learn a lot in a quick span of time which leaves room for feeling inadequate and not enough and needing to quickly learn and grow so we can continue to grow and meet needs and give hope to people."
Places of worship, in particular, have had to make a sudden change, as the quarantine was put in place right before three major religious holidays – Passover, Easter, and Ramadan. Many people have also been looking to religion as a place of hope in these trying times. 
"Prior to the pandemic hitting, we were primarily an in-person church," Mullins said. "We're highly relational, so the majority of what we did in ministry prior to Covid was in person, and we really weren't involved very much in the online world beyond social media. Within a week, we had to have church that we could host online through Facebook, which led to having three different platforms for different generations and age groups to engage in our services." 
Despite all of this, people are finding ways to adapt and to not feel so alone during the quarantine.
"One of the ways that I've seen people come together is by being creative and innovative with ways to meet both practical and emotional needs for one another," Mullins said. "[We're figuring out] how we connect with each other so we don't get isolated. Marco Polo or Zoom are ways we can stay digitally connected."
Beyond just adapting, people are finding ways to reach out and help each other get through these difficult times.
"[People are] offering to shop for others in the neighborhood who are more at risk," Kass said. "[They are] showing support for health care workers and first responders through various means, providing financial support for those who have lost jobs due to the pandemic, and sharing positive or humorous content on social media to uplift others are just some of the ways I have seen people supporting each other."
People are also making a point to support small and local businesses who rely on their regulars and are struggling the most right now. 
"It's been really incredible to see the response from our community!" Berklee said. "It's so heartwarming to see our guests coming out to support us in any way that they can, as well as seeing the response to our employee GoFundMe campaign. It's wonderful to know that our baristas are loved and supported by the community that they love to serve each day. It's comforting that not only are our regulars coming through to check on the shop but also to check on their favorite baristas and to see how they are handling this new normal." 
Many have taken to using their newfound time to donate and volunteer to help the most vulnerable.
"We have our Hope Center here at Crosstimbers and we've got daily opportunities for people to come and serve with us," Mullins said. "Whether that's sorting food for the feeding program we have each night from 5-6:30 or if it's physically coming to serve meals to people, and of course we use masks and practice social distancing. Another way they can help is through giving. We have our Healing Place still in operation, which is our 100% free of charge counseling center that our pastoral counselors are still meeting with people through zoom to meet emotional needs, which I think will be one of our bigger crises coming out of this pandemic. People can financially give to our ministry so we can continue to help through the Healing Place and the Hope Center."
Despite the fear and uncertainty of current times, people of all walks are coming together in a crisis and may come out of this with a renewed sense of purpose and gratitude. 
"I think this time of social distancing and isolation will help some realize some of the very crucial things in their lives that they had taken for granted," Berklee said. "I know that I have definitely used this time to reflect on my own personal work/life balance and to recognize just how special the people I surround myself with are to me and my happiness."
Click on any of these links to donate
Kimzey's GoFundMe: https://www.gofundme.com/f/kimzey039s-coffee-tips-for-employees
Kimzey's Merchandise: https://westoakcoffee.com/shop/
Crosstimbers Hope Center Donations: https://pushpay.com/g/crosstimbershopecenter
Community Deals with COVID-19 Shutdowns