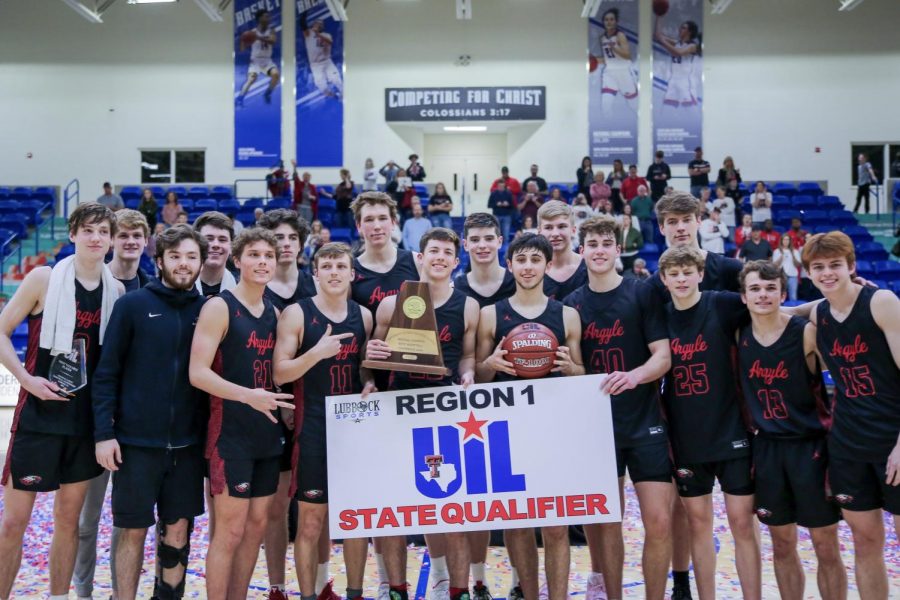 ©The Talon News | Alex Daggett
Eagles Advance to State Tournament
March 8, 2020
After a narrow victory over Clint, the Eagles defeated Pampa 46-29 in the second round of the region playoffs in Lubbock. They will advance to the state tournament for the first time since 2016.
The Eagles jumped out to a fast start, scoring 18 points in the first quarter limiting the high powered Harvesters offense to only five points.
"Our kids came out focused and we did some good stuff," Head Coach Russell Perkins said. "The defense made the difference."
The Eagles nearly fell to Clint in the first round of regionals, giving up 31 points.
"We came in focusing on defense," junior small forward Grey Goodson said. "We really executed that well." 
The Eagles' offense thrives when they are playing with a lead, and with Goodson's 10 first-half points, they were able to get ahead.
"Defense is our main point of emphasis each practice," junior point guard CJ Rogers said. "If we get that down, we know we're going to do our own thing on offense, so we just play as hard as we can defensively and let the offense come to us."
Goodson finished with 12 points in the game, earning him the award of "Most Valuable Player" of the regional tournament.
"It was awesome," junior center Nate Atwood said. "Grey Goodson couldn't miss and that was so key for our victory."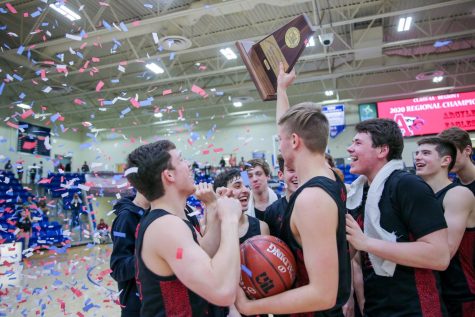 The Eagles' strong defense and rapid scoring allowed them to lead the Harvesters 28-10 at the end of the half.
"Last game we played really bad," Goodson said. "So we wanted to come out, tough, get ahead and get the lead."
However, Pampa fought back bringing the score to 34-19 in Argyle's favor at the end of the third quarter, despite Atwood and Skylar McCurry combining for six points.
"Coming out in the third quarter, we struggled a bit," Rogers said. "But I think we all remembered Coach Vaughn's halftime speech, pushing us to the fourth quarter. He told us to just go out and don't let anything get past us."
The Eagles didn't let a quarter define them. They played a good defense complementing their offense. The Eagles never lost the lead and went on to defeat Pampa with a final score of 46-29.
"Our kids did a great job," Perkins said. "Sometimes you relax and start looking at the score, but the clock couldn't run fast enough. We were just trying to get through it."  
The Eagles have been through a lot of adversity this season and have grown close bonds, which helped them to get to this spot on the playoffs.
"It went great for us and it's just so much fun to be out there with my brothers and competing and earning a ticket on the way to state," Atwood said.
With the defeat of the Harvesters, the Eagles will be playing in San Antonio for a chance at winning the state title.
"I'm super hyped for next week. It's going to be awesome," Godson said. "I think we can win the state title for sure. It'll be tough, but I think we can do it."
The Eagles will be playing for the state title for the first time since 2016, and hope to build on the success they have had so far in the playoffs.
"When you get that close to doing stuff, you just want to keep them going," Perkins said. "I don't know how fun it is spending spring break with teenagers, but it's a lot of fun spending it with these guys."
Their first semi-final game will be against Houston Stafford next Friday at 1 p.m. at the Alamodome in San Antonio.
"[We'll have the] same mindset we had all year: just go out play as hard as we can, have fun and win," Rogers said.