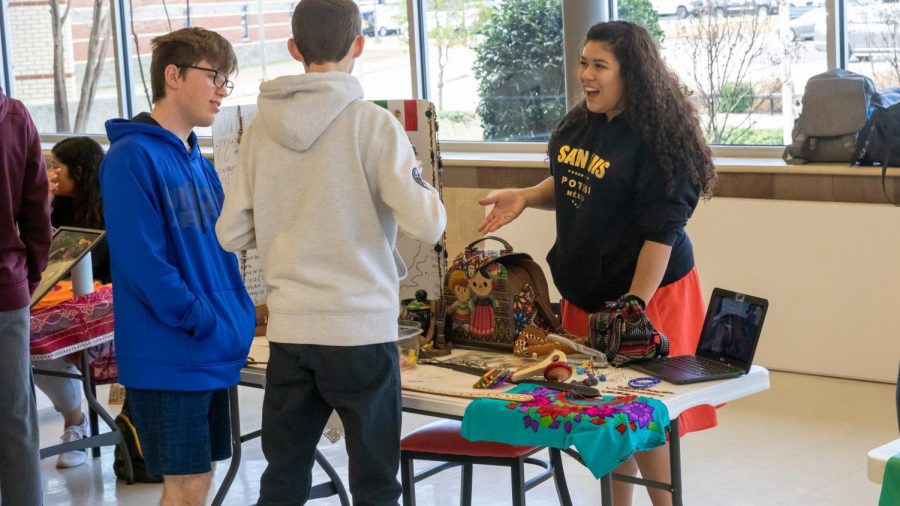 ©The Talon News | Gracie Hurst
Across the Globe: Argyle's First Multi-Cultural Fair
March 4, 2020
Student ambassadors and AP World History teacher Matthew Woody hosted our school's first annual Multi-cultural Fair as a way to celebrate diversity and cultures that have representation in our school.
"I had a great experience as this was my first time ever working a booth but I'm very glad I did," senior Jazmin Moreno said.  "I got the chance to show other people about my culture and why I love it so much."
The student ambassadors hosted a booth and some included cultural artifacts, pastries, and photos. Germany, France, Rwanda, Mexico, Northern Mexico, and India all had student representation at the fair and students had the opportunity to explain their culture and answer questions from the attendees.
"My favorite part about the multicultural fair was getting to see people's facial expressions when they were so surprised about different facts about Rwanda, Africa, and all the other countries," said sophomore Kim Karera. "I got to learn a  lot too from all the other amazing presentations. It was so heart-warming to see their faces beam when they tasted the food."
The multi-cultural fair was an opportunity for international students to show both patriotism and school pride by proving that our school encompasses so much more than just our town and that we have much more worldwide representation than ever before.
"I think it is important for [our school] to have a multicultural fair annually because celebrating the school's diversity is one of the most beautiful things ever to witness," sophomore Kim Karera said. "It teaches people different things about the different nations that attend such an amazing school like Argyle, because once people get to know a bit about them, they have a more expanded mindset internationally, and can feel extra proud they have met someone or have a friend from various places in the world."
For students who haven't been exposed to many outside cultures, the fair was eye-opening for them to learn more about other cultures and gain insight about their friends and the world.
"It's my very fervent belief that the more exposed to outside cultures you are, the better you are if you understand that not everyone sees the world through the same lens as you," Woody said. "Not only is that about understanding the diversity that exists here at Argyle but also understanding that this diversity is Argyle."
In the midst of world conflict and religious and cultural clashes, the fair allows students to move past misconceptions about other cultures and educate themselves on different points of view so they can be better understand them.
"I'm really happy that I've been given this opportunity to be able to do this from Mr. King and Dr. Wright," Woody said. "I think it's really valuable… for us to remember that the outside world does not mirror what we see in Argyle, and it is very important that we remain cognizant of that, and we try to celebrate cultural diversity, wherever we can."