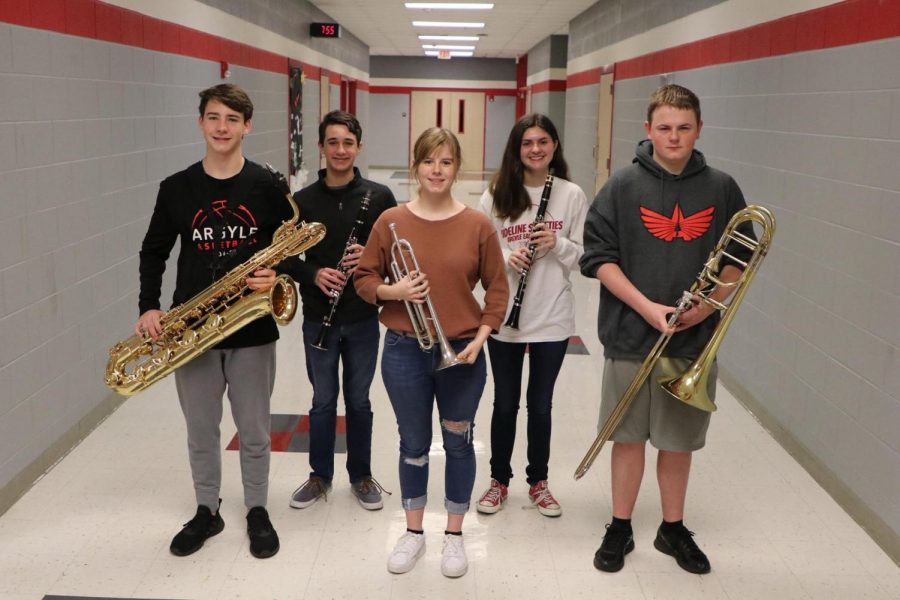 All State Band Students Perform in San Antonio
February 11, 2020
After months of preparation, five students have made the All-State band and are going to San Antonio to perform in the clinic and concert on Feb. 12 through Feb. 15. 
Congratulations to bass trombone Preston Rushford, clarinet Trinity Flaten, trumpet Karter Hennigan, clarinet Zach Tait, and baritone saxophone Micah Splain for making it to the all-state band.
"The state trip is kind of a celebration in my opinion," Assistant Band Director Asa Burk said.
In December the students go through the first rounds of auditions to compete for a spot in the region and area bands. 
"It's a blind audition,¨ Burk said. ¨So there are five judges that they play for and then they get evaluated on their musical performance at the region audition. Then, they are ranked according to how they do. If they rank high enough, they go to the next level which is area."
Once students make it to area, they keep the same audition music and polish and detail it until it is ready for the next rounds of auditions in January.
"It took a lot of hard work," sophomore state qualifier Micah Splain said. "[I] practiced my instrument a couple hours a week, almost everyday after school for 2 hours."
Depending on the instrument a student plays, the number of people accepted into the state band can vary. 
"[Auditions] were pretty stressful," Splain said. "You have to practice really hard, and for my case, if you didn't get first chair you didn't advance."
After Area, if the student ranks high enough they move onto State. Making the State band is a reward for a player's hard work and dedication to learning a difficult piece of music. 
"These students have worked hard," Burk said. "The reward is the harder you work at something, the better you get. The better you are, the more challenging the music that you get to play is." 
These players are some of the best in the state, they have all put in a countless number of hours into learning this year's etude. 
"I would say they put in quite a bit of work," Burk said. "I mean you don't get to the state band without really doing the reps and really putting in the time.