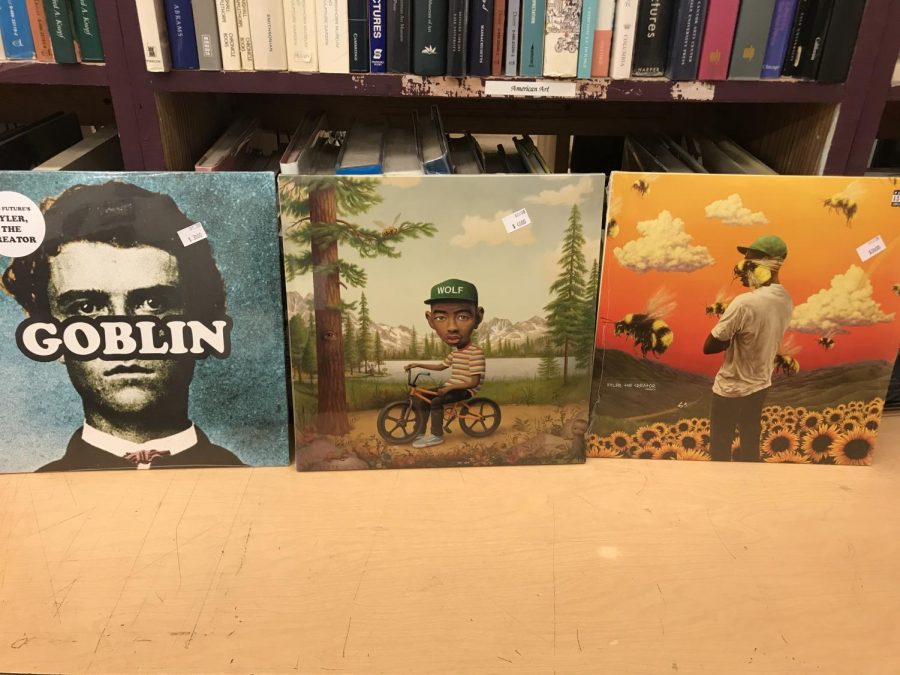 ©The Talon News | Sam Mykel
Tyler, the Creator Creates Waves with Music
January 31, 2020
Tyler Okonma, better known by his rap name "Tyler, the Creator," is an American rapper, producer, designer, and influencer. He's been making waves in the media ever since his days in the hip-hop group "Odd-Future." Tyler started the group with rappers in Los Angeles. The group rose to stardom with their outgoing personalities and popular tracks such as "Oldie," "White," and "Rella," along with others. The group also had their own comedy sketch show on "Adult Swim" called "Loiter Squad." The show lasted for three seasons and was well received by its audiences. During his time with the group "Odd-Future," Tyler was planning for his future and was thinking about when he was going to go solo and how he was going to do it.
In the winter of 2009, he dropped his first solo mixtape "Bastard." The mixtape focuses on the darker side of Tyler and contained slurs and language that was not well-received by many. The mixtape succeeded on the charts and was a hit with fans but not overseas. Tyler was banned from performing in the United Kingdom due to the harsh language and themes on the mixtape. The ban lasted three to five years but was only recently lifted in May of 2019. Following the success of "Bastard," Tyler knew he had started something great. 
In the spring of 2011, Tyler dropped his first studio album "Goblin." The album carries over the harsh themes and language from "Bastard" but might even be darker. The album is used as a therapy session between Tyler and these fictional characters that are revealed to be his conscience. During these sessions, he reveals his inner struggles and fears about his family and how people see him.  The track "Yonkers" really shot "Goblin" rising in the charts and it's known by many fans as the best song off the album and even one of Tyler's best songs to this day. Other popular tracks on "Goblin" include "Radicals," "She," and "Tron Cat." 
Keeping with the trend of releasing albums in the spring, Tyler dropped "Wolf," his second studio album, in April of 2013. The album brought a lighter tone but kept the harsh language and was criticized for its heavy use of homophobic slurs. The album tells the story of Wolf, Sam, and Salem. The tracks tell the story of Wolf, a new artist, making music while making fellow artist, Sam, jealous as the album goes on. The ending track "Lone" is another therapy session between Wolf and Dr. TC. The album was met with good reviews from fans and critics alike and is regarded by some as one of Tyler's best albums. The track "Domo23" helped "Wolf" get popularized and become mainstream before its release. Other popular tracks on the album includes "Awkward," "Answer," and "Colossus." 
Once again, Tyler dropped his third studio album "Cherry Bomb" in the spring of 2015. The album had a completely different tone from his other albums, but was well received by critics and by his fans. The more upbeat style of the tracks was in stark contrast to his other works. The faster, more lively beats help give the album a style we had not really heard from Tyler in the past. Tyler reached from other parts of music to help him complete "Cherry Bomb." This includes working with artists such as Roy Ayers, Kanye West, Pharrell Williams, and Lil Wayne. The opening track "Deathcamp" was a huge part of the success of "Cherry Bomb." Other tracks on "Cherry Bomb" include "Find Your Wings," "Smuckers," and "Okada, CA."
Tyler broke his trend of releasing his albums in the spring when he dropped his fourth studio album "Flower Boy" in the summer of 2017. The album once again shows a completely new version of Tyler we have never seen before. On "Flower Boy," Tyler talks more about his growth as a person by comparing it to the growth and blooming of flowers. The album was very well received and was even nominated for a Grammy. "Flower Boy" is also regarded by many as Tyler's best album featuring tracks where he talks about other topics in his life and tracks where he gets real with himself. The song "Garden Shed" is one where Tyler will be honest with the audience. In the song, Tyler uses a garden shed as a metaphor for coming out of the closet. "Garden Shed" and "I Ain't Got Time" are the two songs that are used as evidence for Tyler's coming out. Tracks such as "See You Again" and "Who Dat Boy" were also helpful in the success of "Flower Boy." Other tracks on "Flower Boy" include "Where This Flower Blooms," "911/Mr. Lonely," and "Boredom."
Although "Flower Boy" broke the spring release trend, Tyler's fifth and most recent release "IGOR" brought it back when it was released in May of 2019. The album shows us a side of Tyler we have never seen before in his music, as it discusses his love life. In his last album, "Flower Boy," Tyler came out as gay and "IGOR" tells the story of him chasing after a male lover. The story behind "IGOR" is that Tyler is blinded by love and can't tell that his lover is toxic. After coming to his senses, Tyler realizes that the boy isn't good for him and accepts it. "IGOR" was loved by fans and critics and it earned Tyler his first Grammy award and a performance at the Grammy Awards. Tracks such as "EARFQUAKE" and "RUNNING OUT OF TIME" are what helped gain "IGOR" its popularity at release. Other tracks on "IGOR" include "NEW MAGIC WAND," "WHAT'S GOOD," and "ARE WE STILL FRIENDS?." Tyler also released a track titled "BEST INTEREST" during the winter of 2019. The track was originally created for "IGOR," but did not make the album.
Tyler, the Creator has changed his music and style many times throughout his career. From starting out writing raps about murder and suicide while also making comedy sketches, he has evolved into an artist who can rap about his feelings and his love life while also running a popular clothing brand "GOLF WANG." Tyler has become an icon in pop culture and a role model to many. He doesn't plan on stopping here and he is sure to create more waves with his music and actions in the future.