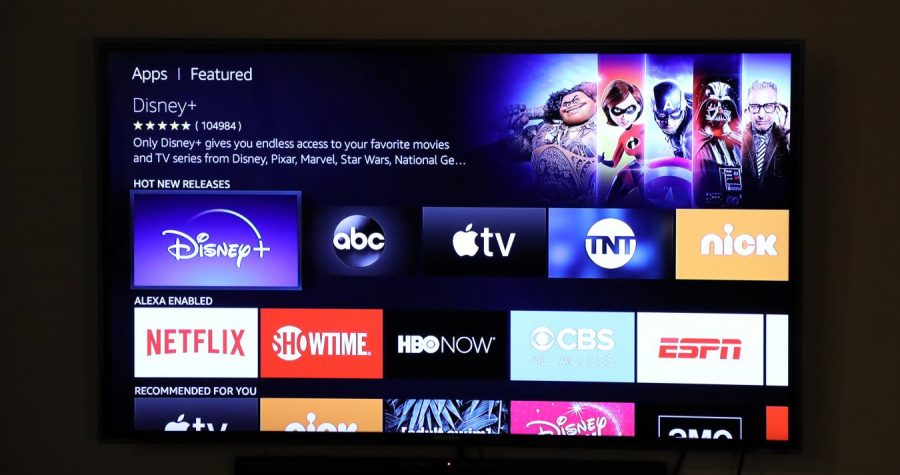 ©The Talon News | Trinity Flaten
Multiple Streaming Platforms Compete for Viewers
January 10, 2020
Recently there has been a huge growth in the number of streaming platforms. Late last year, Disney released Disney+ and NBC has announced the release of its streaming platform 'Peacock' for later this year. These are just two of the many platforms that will be joining Netflix and Hulu.
With every movie or broadcasting company having its own platform, it defeats the whole purpose of streaming services.
Due to these new services, many companies had their shows pulled from Netflix, allowing the show to only be on their service. This has caused a severe drop in variety on the platform, leaving very few options among the many Netflix Originals. Because of this, many have lost access to their favorite shows. For example, on Jan. 1 'Friends' left Netflix for good, as Warner Bros. TV is starting up its own service 'HBO Max.' However, this new service is not expected to come out until May, causing many to not have access to Warner Bros. TV's many shows for five months. Because of the multitude of platforms, watchers will end up needing two or three services just to continue watching their favorite shows.
With these many platforms, comes the concern of cost. For viewers to own Netflix, Hulu, and Disney+ all at the lowest prices (meaning they have to deal with adds on Hulu and do not have the option to watch on multiple screens at once as well as having lower quality video on Netflix) it would cost them around $22 a month. This does not include if the viewer wants to enjoy HBO shows or Warner Bros. TV movies on HBO Max which will cost approximately $15 a month, according to Variety. With every broadcasting company having a streaming platform, viewers are forced to make sacrifices, either having to pay a very steep price for all the platforms they desire or only buying one or two platforms and missing out on other shows they watch. Due to this, companies creating platforms are just encouraging viewers to pirate movies and shows on free websites as the price for all of the services will just become too high.
However, with companies making streaming platforms specifically for their shows and movies, viewers have the opportunity to watch shows they have never had access to before or may have forgotten about over time. Although, having more options does not change the fact that the prices of the platforms will stack up and having more than one platform definitely ruins the convenience of Netflix.
To keep prices low and still have access to a variety of shows and movies, viewers can get a bundle package option on Disney+ that includes Disney+, Hulu and ESPN. Viewers can also look into either switching to a lower costing plan on Netflix or dropping it entirely as most shows and movies on it are now Netflix Originals.
Sources: