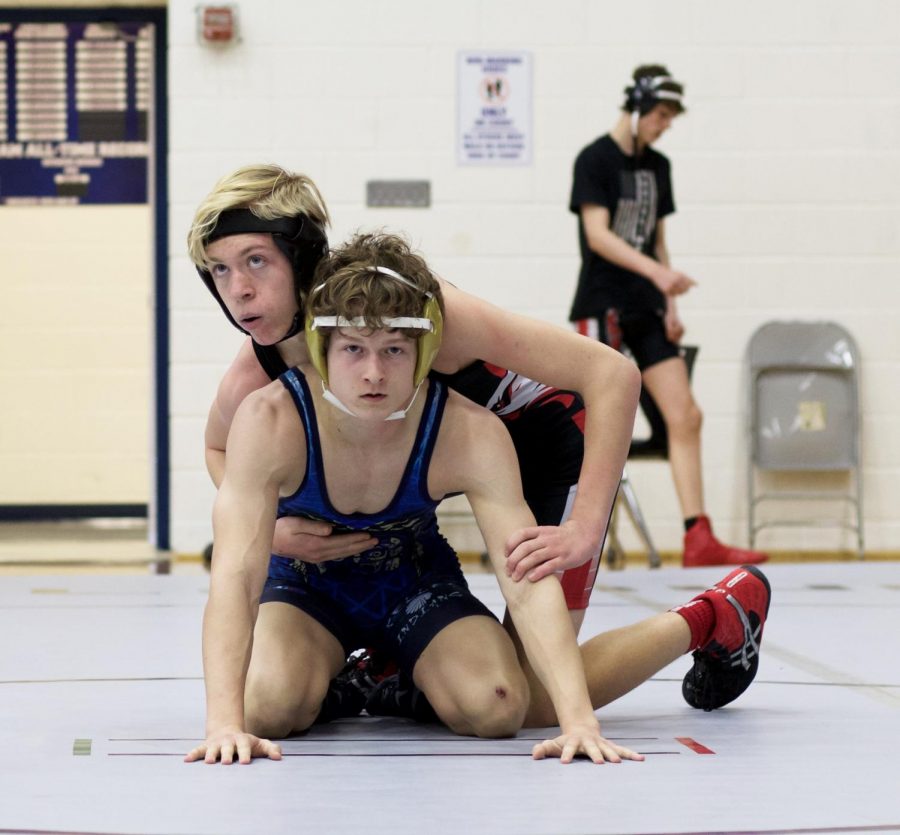 Freshman's Big Break
Student Overcomes Injuries in Wrestling
January 22, 2020
He takes a deep breath and readjusts the tape on his hands as he readies for another set. He gingerly grabs his left hand, still not fully comfortable using it so soon after breaking it a few weeks before. He gets down on the mat and waits for the set to start. The referee's hand drops and he wins in minutes, taking third overall in the match on Dec. 21. 
After breaking his hand earlier in the season, Zachary Eades returns as the only freshman on the varsity wrestling team.
"Zach is doing great for a first year guy," wrestling coach Bobby Morse said. "He has placed in JV tournaments and gotten some varsity wins for us. Zach has shown the spirit to step in and fill spots on varsity when needed. He always gives his best and is improving each time." 
Eades has not gone without adversity in his young career. Early in the season he broke his left hand, and was out for some time, but came back strong.
"I broke my hand and I was in a cast for about two weeks," Eades said. "And I came back and my first match back I won third." 
Even in his time not wrestling, Eades impact was still felt on the team.
"When Zach broke his hand, it seemed like he kept the vibes up, even when he wasn't out there wrestling, he just kept on cheering on the team," fellow wrestler Clayton Davee said. "He was like our cheerleader cheering on the team."
Eades' accomplishments are made even more impressive by the fact that he did not start wrestling until this year.
"I used to play football," Eades said. "It was a hard switch because we have different workouts, and work a lot. The hardest thing was starting off fresh, not knowing much about wrestling." 
Even though Eades has only started wrestling this year, his presence has already made a positive impact on the team. 
"Zach is a pretty funny dude, real nice kid," Davee said. "All around he brings positive vibes to the team. He brings out the joy in everybody."
Matches are important, but the real test for wrestlers is practice, where Eades always shows up big.
"Like all members of the team, Zach serves a vital role in being a good practice partner and competing hard during matches," Morse said. 
His hard work isn't lost on teammates either.
"He brings us some wins, brings us happiness," Davee said. "He's the first one out there warming up on the mat." 
Despite success, Eades stays grounded and is committed to working to improve. Argyle can look forward to having him around for the near future and helping out the wrestling team.
"I would consider myself half and half successful," Eades said. "I've had my wins and I've had my losses. I'm not the best but I've been working hard to get to where I am so far."