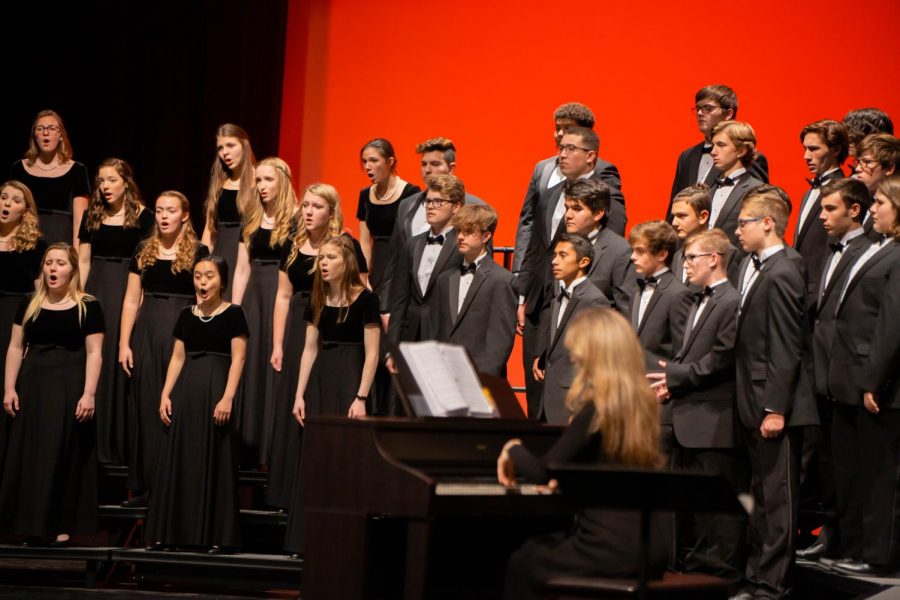 Importance of Being Human
December 17, 2019
All around the school, we see the influence of the arts. We can hear music and singing, and we can see dancing, painting, acting, and drawing. Not only do the arts and humanities include the performing and visual arts, but also literature, social studies, and foreign languages. The arts and humanities are vital to our school's culture and the diversity of talent and ability.
"Overall, we find that when a society removes the arts and humanities from its curriculum, it is to the detriment of society," AP World History teacher Matthew Woody said. "Without art, music, and expression, there is no life. Life itself is entirely meaningless without those things." 
The liberal arts provide people with a basis for reason and thought. The concept of a liberal education is not limited only to the humanities, but also has principles of higher-level thinking and understanding the people and the world around us. The Cowan Center at the Dallas Institute of Humanities and Culture provides a clear definition of the liberal arts: "Liberal does not indicate any political affiliation but rather the freedom a person acquires when they learn with an open mind. The concept of a liberal arts education can be applied to any subject, whether it is math or science. It is about looking at the big picture and being able to interpret and connect ideas."
"The arts are important because there are students who come to school for the arts, their reason for staying in school is for the arts," Theatre Director Melissa Toomer said. "We give students a reason to belong."
The fine arts provide a space for students to be themselves and to be a part of something noble.
"Music and band have taught me a lot about character and integrity," senior band member and drum major Taylor Childress said. "It's also taught me how you can express yourself without words."
The fine arts help cultivate character and personal responsibility in those involved. It gives students an outlet for self-expression and creativity. We learn what it is to be human from the arts, and we can then understand what a beautiful thing it is.
"I like knowing that I have the power to make someone feel something," junior pointe dancer and pole vaulter Regan Ruffner said. "My favorite style is contemporary so I usually use that to make people feel emotion."
Emotion, empathy, and communication are important parts of the fine arts and they complement STEM by emphasizing how imperative it is to connect to other people and humanize the world.
"All that comes back to saying that without understanding the humanities, whether it's history or literature, it leads us to be devoid of any sort of reason," Woody said. "One of my former colleagues said that STEM can tell you why or how something works, but the humanities give it a reason to work." 
Without STEM or the arts and humanities, there is an imbalance and it causes people to forget that we need both in order to have a functioning and empathetic society in which we can improve on past mistakes and make the world a better place.
"I believe that literature promotes empathy," AP English and Literary Criticism teacher Jennifer Hadley said. "We learn so much about the people we want to be, and the people we do not want to be, through the lives of the characters we read. The empathy we feel exposes our humanity and interest in promoting the good in our world."
The arts and humanities are not just outlets of creativity and higher thinking but are also a way of life. They impact the way we feel and understand the world around us. Dance, art, and music can bring light to the things that words cannot say, and words bring light to the things that people are too afraid to say.
"Theatre teaches you to be empathetic to people," Toomer said. "You have to listen and react and put yourself in someone else's shoes. I think you have to learn to work as a team, as a whole, which is a really key thing in any environment. So, when you don't know how to do it in theatre, you fake it 'til you make it, and I think that mentality takes you a long way."
Skills that students acquire through the fine arts at school not only benefit them while they are in school, but also help them in the workplace. Employers value emotional intelligence, perseverance, hard work, and especially the ability to collaborate with others.
"I think that if you're involved in the arts, you need to be sure to write to your administration and superintendent and your state legislators and tell them how important the arts are to you," Toomer said, "and how they impact you so that people understand and keep it fresh in our minds that the arts matter."