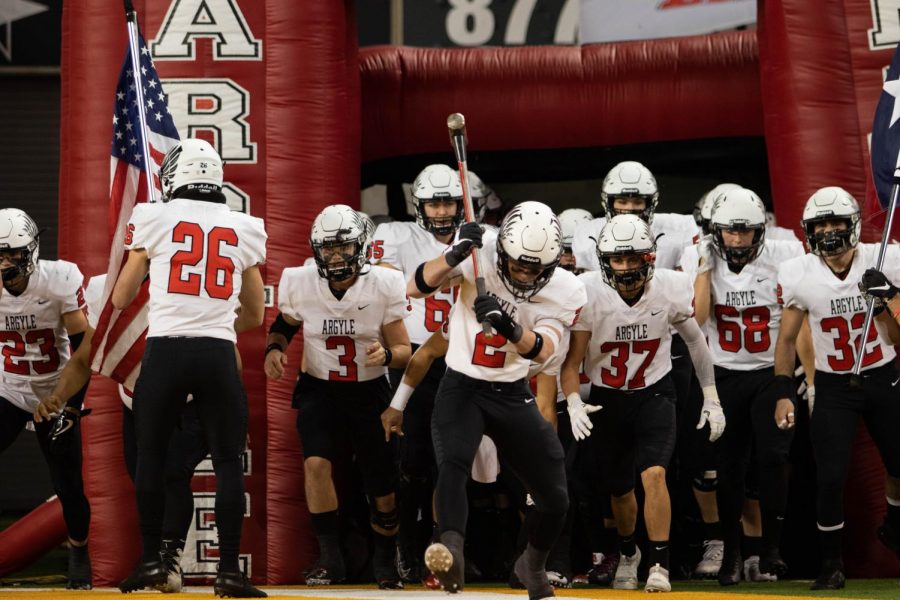 Next Man Up
Season Highlights Preview 2020
December 17, 2019
The Argyle Eagles' undefeated season came to a close on Friday, Dec. 6, when they lost to the reigning 4A state champion, the Waco La Vega Pirates, 44-20 in the fourth round of the playoffs. Though the Eagles didn't get the results they were looking for, the season was record-breaking.
Senior Bo Hogeboom made history in the passing game. Hogeboom finished the season as the all-time touchdown passer in school history, with 102 in his career. His season consisted of huge amounts of scoring, throwing 57 touchdowns, along with 3,274 passing yards (a 352-yard improvement from his junior season). The only problem he faced this season was the turnovers. Hogeboom threw 13 interceptions, 21 in his career, including three in the team's season finale.
Sadly for college football scouts, Bo Hogeboom will stick to his primary sport, baseball, when he goes on to college. On Nov. 13, he officially signed to play baseball at the University of Houston. The quarterback position will be in the hands of either CJ Rogers or Jett Copeland in the 2020 season. 
The running attack at the beginning of the season was dominated by junior running back Tito Byce. His most dominant game of the season was in the second week of the season in a win over Waco La Vega, where the Eagles gave the ball to him 43 times for 207 yards and three scores. He followed up that game with 192 yards and two touchdowns on only 15 carries, averaging 13 yards per carry. Unfortunately for Byce, his season came to an end after tearing his ACL in the first half of a game against the Melissa Cardinals. The NextManUp mentality really came into play when senior Luke Farris took over and had the best game of his career.
Farris was not used very often in the first six games, rushing for less than 40 yards in four of those games. However, after the Melissa game, the Eagles relied on him to make plays down the stretch and into the postseason. He ran for over 100 yards six times, two of which he ran for over 200 yards. He scored 19 touchdowns and had 1,263 total scrimmage yards.
For next season, sophomore Knox Scroggins will have to perform at a much higher level until Tito Byce is at 100%. Scroggins was slightly used in the first half of the season and then came in as a relief player for Farris.
The wide receivers on the team made it really easy for Hogeboom to complete his passes, especially when he found junior Cole Kirkpatrick. The connection between the two was a regular occurrence this season, completing 68 passes to Kirkpatrick. Kirkpatrick was a touchdown machine this season, catching 29 passes in the end zone, breaking the previous record of 19 which was set by Dillion Carter last season. 
Senior wide-outs Alex Gonzales and Cade Merka also ended their football careers in a great way. The Eagles will need to find replacements for Gonzales and Merka, because if next season is anything like this year, Kirkpatrick will be getting double-teamed a lot.
Junior Jasper Lott was a solid target in the passing game this season, catching 18 passes for 220 yards. The six-foot-five tight end grabbed seven touchdown passes in his first year at Argyle. He also was a versatile player by also being able to play defense. In the season opener against Stephenville, he collected his only sack of the season, along with four tackles and a tackle for loss. Lott is a great tight end that is getting the attention of college recruiters from all over the country. He has currently received offers from Colorado, Louisiana State, Minnesota, Oklahoma State, and Texas Christian University.
It's one thing to have excellent running backs in the backfield, wide receivers dominating downfield, and a true gunslinging quarterback to get the ball to the wide receivers, but to have great offensive line is a quintessential part of an offense. The youth of this o-line is bright, with the lone senior guard, Micah Hiter. Juniors Jack Tucker, Caden Reeves and Blake Spence, along with sophomore Sheridan Wilson will all return to play next season.
Jack Tucker has proven to be one of the many standouts on this team. Like Jasper Lott, he has been grabbing the attention of many football squads around the country such as Baylor, Boston College, Illinois, Purdue, and Texas Tech.
A stellar offense was complemented with a classic "Black Swarm" defense. The defense was able to be aggressive on the line of scrimmage, to tackle in the open field, and was able to shut down the passing game. Seniors Jake Sullivan and Riley Hartman were very important players against the pass, collecting six interceptions (four by Sullivan), and defending 20 passes between the two. Hartman was also third on the team in tackles with 81.
One of the biggest contributions came from sophomore Will Ramsey, the young brother of former Argyle defensive back Blake Ramsey. He was able to effectively stop the opposing offense on the ground and through the air. He had 72 tackles, three games of 10+ tackles and six tackles for loss. Ramsey's best game of the season was in a win against Liberty-Eylau, where he had eight tackles, four tackles for loss, an interception, two passes defended, and a forced fumble. He was also able to be active on special teams, blocking a punt against Melissa.
The dynamic duo of junior Davis Elsey and senior Braiden Rexroat was a nightmare for opposing offensive lines. Elsey proved to be a reliable defensive player after collecting 87 tackles, 14 tackles for loss, and seven sacks. Against North Lamar, he was a terror in the backfield, getting two sacks and two tackles for loss, along with nine tackles. Rexroat also caused others trouble, leading the team in tackles (88), sacks (8), tackles for loss (19), forced fumbles (3) and having the teams only pick-six. He was able to take over on defense in a win against Melissa where he had two sacks, two tackles for loss, two forced fumbles, a fumble recovery, and the only interception of his career (which he brought to the house).
Though not on the field very often, junior Hunter Roberts and sophomore Caden Dodson were able to be very efficient on their extra-point, making 90% of their attempts. The team's go-to kicker was Roberts, making 68 of his 72 PAT attempts. However, he struggled on his field-goal tries, only making one out of three. Dodson was able to get a ton of opportunities, kicking 23/26 PAT's and make his only field-goal attempt.