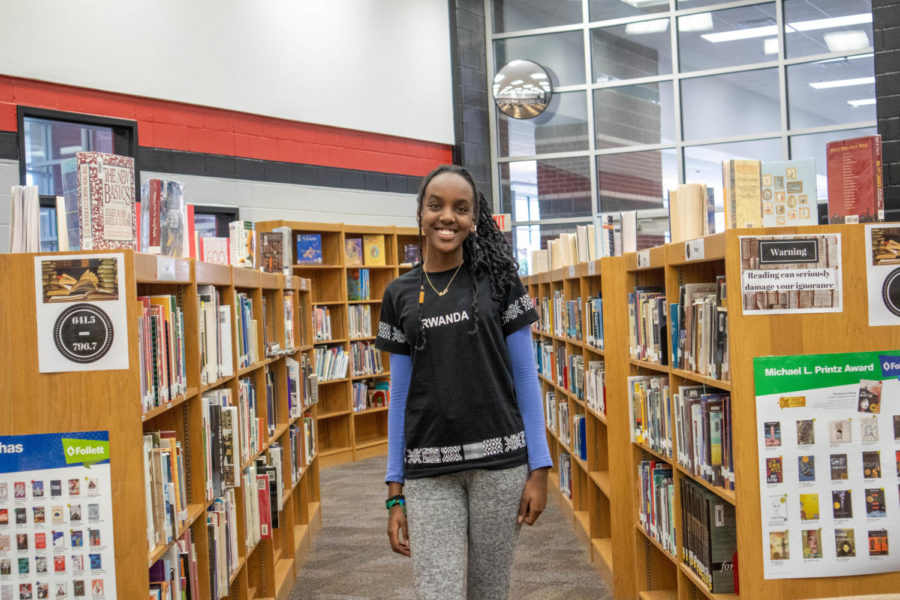 ©The Talon News | Gracie Hurst
American Dream
December 4, 2019
It is said that today's teenagers experience the highest stress levels yet in comparison to past generations. Imagine dealing with that stress on top of experiencing homesickness and pressure from a family across the Atlantic Ocean.
This is what sophomore Kim Karera faces on a daily basis after she moved to Texas from Rwanda, yet she overcomes this adversity and remains positive by focusing on her goals and the possibilities that are open to her.
"I personally wanted better opportunities," Karera said, "[by] coming to a different country for better education, but I think [my aunt and parents] really played a big part in sending me."
Karera moved to the United States in August 2018 before her freshman year and now lives in Harvest with her Aunt Hope and cousins.
"I have faced very many challenges, but I have overcome them more with help and self-guidance," Karera said. "One of the challenges I faced and continue to face but push through is being homesick. I always try to remind myself why I am here, and why I should be strong."
Karera seeks guidance and support from her friends and continues to focus on where the future will take her if she stays focused on her goals.
"Kim is the ideal student," French teacher Ashli Sambaluk said. "She's always paying attention, she's involved, she's enthusiastic, she asks questions." 
Karera has embraced her educational opportunities and is always striving to make her family proud.
"All of those qualities that I mentioned before are not qualities that we see all the time in people, and she's got all of it," Sambaluk said. "She's somebody that has a high character, that you could go to if you need anything, that you could say anything to and she's not going to judge you. "
Karera stands out among other students and is recognized as a unique individual who brightens other's day with her positivity.
"She seems to be more thoughtful than other students and she's a lot more considerate," AP World History teacher Matthew Woody said. "She really wants to improve. She wants to know, 'How can I better myself?' That sort of introspection is pretty uncommon [in students]."
As a new student in Texas, especially having come from the British Educational System, Karera had to adjust and adapt in order to succeed.
"She's a very hard worker," Student-Teacher Megan Merriman said. "She never lets any kind of obstacle stand in her way."
Karera's strong work ethic and different cultural background have given her a different perspective.
"My journey has been and still is quite the journey," Karera said. "I am determined to thrive in my education and life in general. I don't know where my future will take me, but I am very positive and looking forward to it and where I'll go. Taking baby steps, I hope it will be big and impactful."