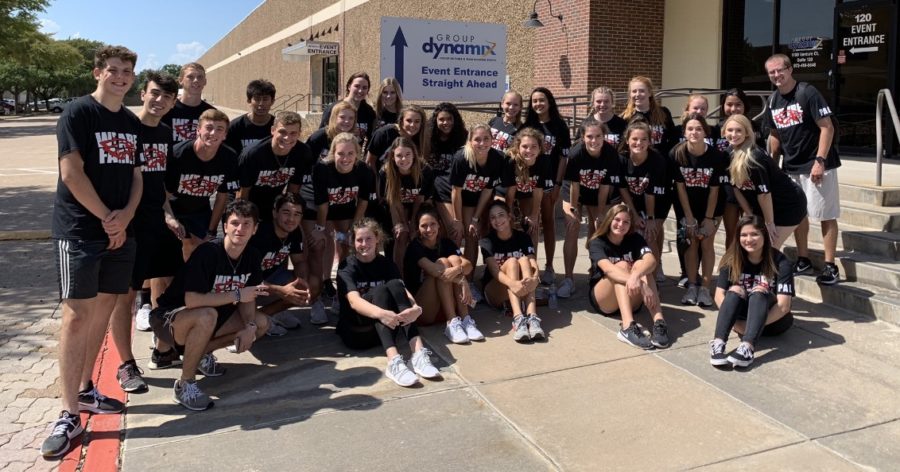 PALs Promote Positivity
November 6, 2019
To help elementary school students that struggle in school, high school physics teacher Lance Sutton established the Peer Assistance and Leadership (PAL) class four years ago. PALs sends junior and senior students to the elementary school campuses to mentor students who need a positive role model. Today, the program has grown to two classes with a total of almost 40 students changing the lives of young children.
In order to join this class, students must go through a rigorous application process.
"There are several steps to be accepted into PALs," PAL teacher Lance Sutton said. "Usually in January, applications come out. I try to make it a little intense so that I can really make sure we are getting kids that really want to be a part of it."
Students involved in PALs travel to the elementary and intermediate schools in the district once a week during their PAL period to mentor students. 
"We go there throughout the year and build relationships with them," Sutton said. "A lot of the kids that we meet with come from tough home lives or have things going on in life that are difficult. We just try to intervene and help with behavior and academics and really try to give those kids somebody to look up to."
Although PAL students recognize these kids are going through tough times, they still are able to have fun and share laughs with them. 
"I really really love little kids so helping them is my epitome of joy," junior Gracen Sieben said. "I get to go and play with them and talk to them and help them. Those kids are hilarious. They say the funniest things ever."
High school students involved in PALs serve as positive role models and friends to the younger kids. 
"I think that it impacts their life because they get a friend to come and help them and show them what to do," Sieben said.
Although there is a lot of eagerness to make a difference, it can be frustrating for students when they see children who are struggling.
"I think one of the most challenging things that we face is that we have a lot of kids who are in difficult situations," Sutton said. "My high schoolers all have such good hearts and they want to help and they want to change those negative situations. Unfortunately, there's only so much we can do."
The high schoolers have been able to establish strong trusting relationships with the children.
"I know there have been numerous cases where a little kid has shared something with one of my high school kids that they wouldn't have otherwise told a teacher or an adult," Sutton said. "Because we formed that trust with them, we were able to find out some things. There were a couple times when we had to correct some major issues at home with those kids."
The high schoolers involved in PALs have made friends at different campuses while also strengthening friendships among themselves. 
"I enjoy the relationships and the family aspect," junior Ashlynn Roberts said. "I've grown really close with the juniors and seniors in my class period and we've bonded over the past few weeks before we started traveling. I learned a lot of things about them that I wouldn't have known if not for PALs."
PALs takes up more than just a class period and takes a lot of dedication.
"I would definitely recommend PALs to anyone that likes kids or is interested in making a difference," Roberts said. "It's hard work and it's a time commitment, but it's worth it in the end."
Students must be willing to commit their time and energy to be apart of PALs. 
"The biggest thing for my high schoolers that I see is that it really gets them out of their comfort zone because once we start traveling around to those campuses, it's on them," Sutton said. "They are the ones that have to lead and entertain those younger kids. I try to be pretty hands-off. It really stretches them."
The impact of PALs stretches beyond just the classroom.
"Coach Sutton has told us stories of students whose parents have contacted him and said how it has really helped them brighten their day, or it's made their day go by easier," Roberts said. "A lot of these kids have problems we don't even realize or know about, but everyone has a story and it's cool to get to know theirs."