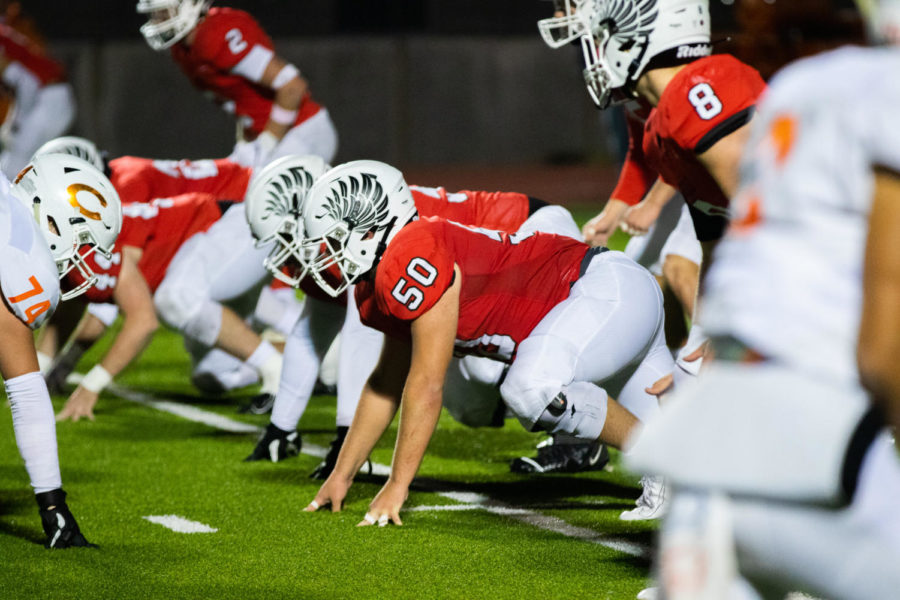 Eagles End Regular Season Undefeated
Eagles Beat Bobcats 30-13 in Regular Season Finale
November 11, 2019
For the fourth consecutive season, the Argyle Eagles ended their regular season a perfect 10-0. They did so, after defeating the Celina Bobcats 30-13, on the Eagles Senior Night, Friday, Nov. 8.
The passing game for the Eagles was, once again, excellent this week, when senior Bo Hogeboom threw for 300+ for the fifth time this season. In the last regular-season game of his career, he completed 18 passes, 307 yards, and three touchdowns.
"We definitely had some extra motivation coming into this game because at the time it was our last home game," Hogeboom said. "It made it more special because we got to go out with a bang by beating Celina."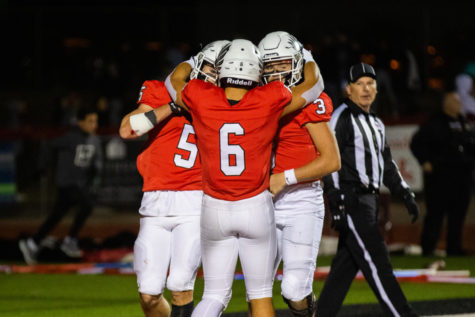 Senior wide-outs, Alex Gonzales and Cade Merka, were able to make plays due to Hogeboom's passing, combing for 13 catches and 247 receiving yards. Gonzales was able to make big plays in this game catching two touchdown passes.
"We knew they were going to double Cole [Kirkpatrick] coming into the game," Gonzales said. "He's had such a great year, I don't see why you wouldn't. So Cade [Merka] and I knew we were going to have big games."
The "3 Horsemen" (A nickname for Gonzales, Merka, and Kirkpatrick that was given to them by offensive coordinator Tate Wallis) have been the main weapons of this offense and will be getting lots of targets as we get into the playoffs.
After taking a week off last Friday, running back Luke Farris was able to get right back into a groove dominating the ground game. In the last three games that Farris has played in, he has been on an entirely different level, rushing for a combined 562 yards and eight touchdowns.
Though the offense was firing on all cylinders this game, the defense was able to truly dominate this game allowing only 42 passing yards, and allowing only 11 first downs. Sophomore Safety Will Ramsey was great once again, leading the team in tackles for the fifth time this year. Though great play by the secondary, the real dominance was on the line of scrimmage. Defensive tackle Blake Sullivan and Defensive End Braiden Rexroat combined for 18 tackles and two TFL.
"The d-line was getting good penetration," Rexroat said. "Which allowed the ends to get free shot and make the QB feel rushed."
The 'Black Swarm Defense' has allowed one touchdown or less in four games this season.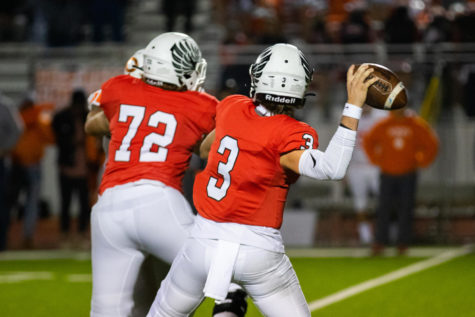 Special teams in this game was another place where the Eagles had the advantage. Sophomore kicker Caden Dodson made his first career start for the Eagles, due to junior Hunter Roberts being out with an illness. In his first start, he made three of his four PAT attempts and made a 29-yard field goal.
The Argyle Eagles will begin their playoff run at home for the first time in school history against the infamous Dallas Carter Cowboys, on Thursday, Nov. 14. Kick-Off will be at 7:30 P.M.