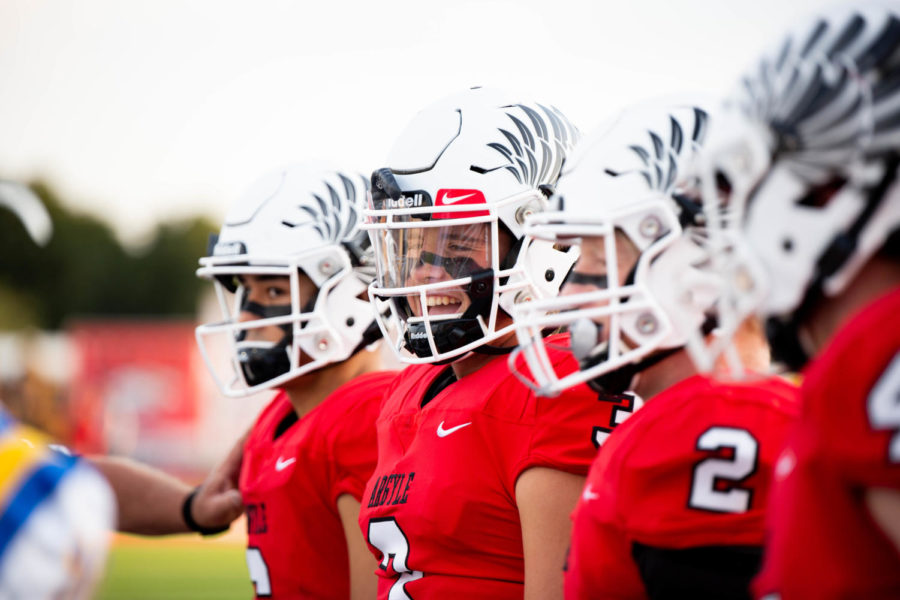 ©The Talon News | Jordyn Tarrant
Look at Bo Go
October 3, 2019
It's third down with fourteen yards until the first. The center snaps the ball and senior Bo Hogeboom drops back in the pocket. With three seconds left on the clock, Hogeboom throws the ball deep to Alex Gonzales and it's a touchdown. The game is won and records shatter.
As the starting quarterback for the varsity football team and a starter on the state championship baseball team, Hogeboom has taken the role of a sports icon in Argyle. He, along with the football team, has brought great success to Argyle and doesn't plan on stopping until he reaches and wins the state championship.
"Bo is an experienced player," Athletic Director Todd Rodgers said. "He gained a lot of experience when he started 14 games last year. He had a tremendous offseason and baseball season and is very mature and is doing great at leading our team." 
Hogeboom has been a part of the varsity football team since 2016 and his seasoned presence benefits the team.
"It's always good to have a returning veteran quarterback," Rodgers said. "There's still lots of learning taking place, you still have to stack learning week after week, and after 14 games, he's a valuable piece to the team."
After his performance against Stephenville High School, Hogeboom was awarded the "Ford Built Tough Player of the Week" Award.
"It's a pretty cool honor knowing that 5 or 6 people from Argyle have gotten it," Hogeboom said. "Now being one of them is a big deal."
Hogeboom has led the team to its now 4-0 record and is hoping to lead them to further successes in the season.
"He just gets better and better every week," senior and varsity receiver Alex Gonzales said. "With him wanting to improve, it just improves the team as a whole." 
As Hogeboom constantly works on himself, he becomes a natural role model for younger players.
"Bo is a very quiet leader, " Rodgers said. "He isn't one of those robust, verbose, kind of guys that brings attention to himself. He leads by example and not by the attention he gets."
Gonzales has been helping Hogeboom and the team scorch defenses and win games all season, just like the last.
"Bo and I have always been able to connect with each other," Gonzales said. "We've known each other for a while and that's the best thing we can do for each other. Bo and I have good chemistry, it goes a while back to about since eighth grade." 
Hogeboom is about to break the career passing touchdowns record at Argyle; he only needs 19 more touchdown passes to breach the record of 79.
"I've always learned from past mistakes to help make me better in football," Hogeboom said. "It's paying off." 
He's been averaging 284 passing yards a game and almost five passing touchdowns a game. Hogeboom helped lead the Eagles into the Texas High School Playoffs last year.
"Bo is a very confident player," Rodgers said. "When he steps in the huddle, the other ten listen to him and know it's on his shoulders if we succeed or fail."