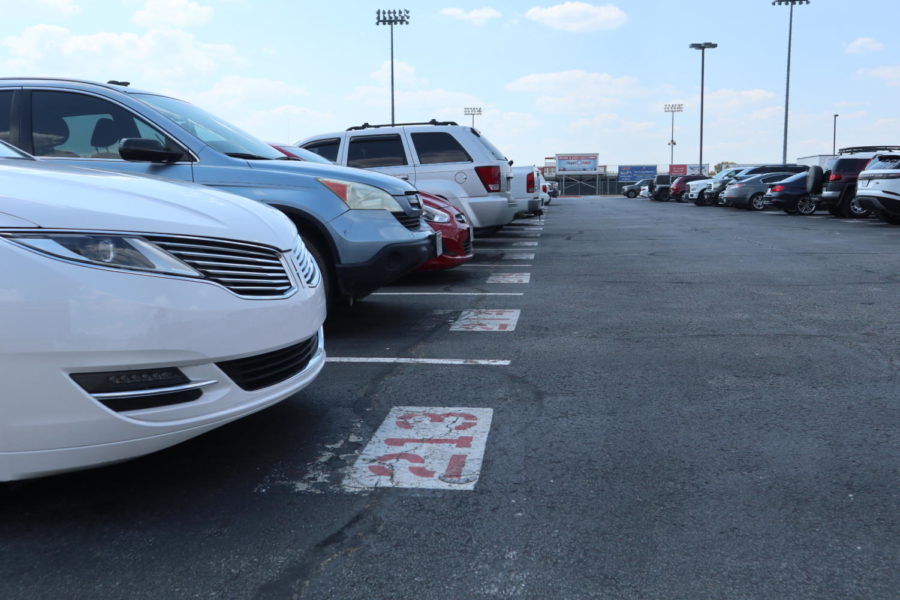 ©The Talon News | Trinity Flaten
Problems With Parking
September 5, 2019
To make the process easier, the administration decided on a new way to assign parking. Students will now be automatically assigned a spot after filling out an online form and submitting pay rather than standing in line on registration day and picking their own spot.
The parking should have been assigned like previous years.
Many students in extracurricular activities now are in spots far away from where they need to be. Not only is this an inconvenience to these students, but it also brings up the question of student safety. Band students, cheerleaders, and drill team members now have spots all the way across the school from where they need to be. After late-night football games, having students, walk to their cars by themselves in the dark is a liability. With the parking lot being very spread out and some spots far away from the school, something could happen to students walking to their cars and no one would notice. Band directors or coaches could walk them to their cars, but there are not enough coaches for every student, and staff members do not want to be at the school any longer than they have to. 
Seniors are also upset at the new system because they do not have a 'senior spot'. Although the school said parking would still be sectioned by grade, that is not the case. Many juniors are now in spots that were once senior parking, while some seniors are close to the dumpsters and others are in the Indoor Athletic Center (IAC) lot. The parking spots seem to have been assigned randomly without students' grade taken into account at all. This is viewed as unfair to seniors who feel like they have 'earned' their spots. 
The school is now letting students trade spots. However, this requires both students involved to fill out a form and then present it together to Assistant Principal Jonathan DeLay. Then, the students have to meet to switch their parking spot stickers so they do not receive a citation from Chief of Police Paul Cairney. Although the school randomly assigned parking to make life easier for everyone, it has done the exact opposite. DeLay now has to sit outside the cafeteria every day during lunch in case two people want to trade spots, Chief Cairney has to look at every car's sticker and spot number to make sure they are in the right place, and Principal John King has had to deal with complaint after complaint from upset parents and students.
The new parking initiative has done exactly the opposite of what it was intended for and needs to be changed back. It completely disregards what works for students. Continue to trade spots and petition to administration about the issue so that it can be changed back next year.