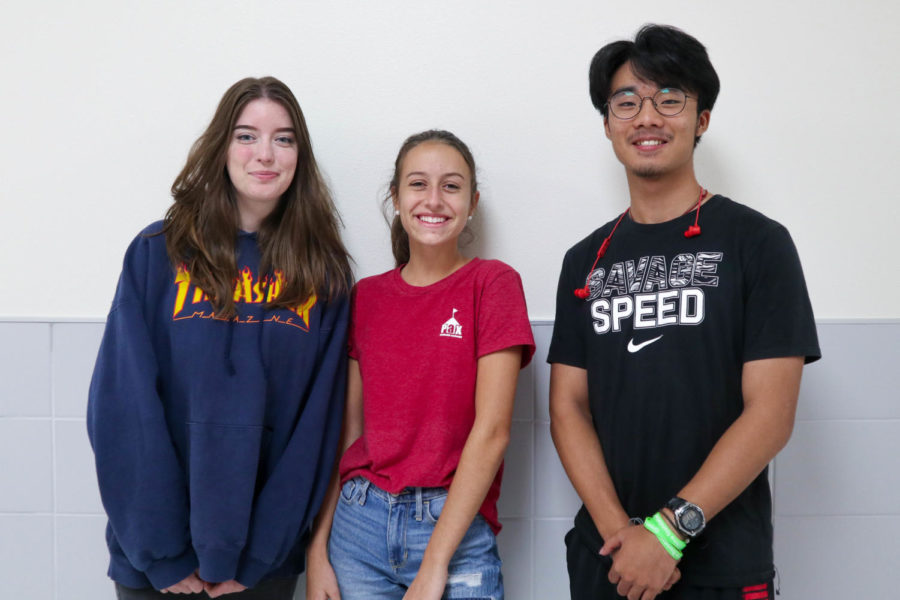 Cultural Crossroads
Foreign Students Experience American Cultures
September 27, 2019
As everyone is getting settled back into their normal school routines, a few students are not only getting settled at a new school but a new country. The school welcomed five new foreign exchange students this year, from a variety of countries and continents.
"I had a big culture shock when I came here," junior German exchange student Mariell Matlik said. "It was really bad. I was really homesick."
A few weeks in and the students are still adjusting to American customs and cultures.
"The people are a little bit different," sophomore German exchange student Marlene Gorhan said. "I would say they are a lot more direct and honest, here everything is like so much small talk but I like it. Here that they are so friendly and always talk to you, just always saying 'How are you?'."
For the students who have already been exposed to the juxtaposition of cultures, it is an easier adjustment.
"I'm studying in an international school back in China, so I get that there are differences between cultures," freshman Felix Bien said.  "It didn't really impact me a lot though." 
Most foreign exchange students are not only getting used to differences in culture and traditions; they are also noticing differences in the laws in the United States.
"We are allowed to drink beer and wine [in Germany] when we are 16," Matlik said. "That's cool."
Despite the change in culture and the size of the school, the students are not having difficulty adjusting academically.
"My old school is a big school," Matlik said. "I'm in the biggest school in Hamburg, but it's still smaller than this school, I think. The classes are way easier here, but sports and music [at home] are not so intense as it is here."
One difference between schools in other countries and the United States is the amount of foreign languages students speak fluently.
"I speak German, English, a little bit of Spanish, and a little bit of French,"  Gorhan said. "In one class I talked with a guy, he Google translated everything to german so we got to speak in german and that was really funny."
Despite their differences, most of the students have been accepting and kind to the foreign exchange kids.
"Everyone was really nice," Matlik said.  "They came to me and said hello. I was really happy about that because I'm a really shy person."
It truly is the welcoming hearts of the old students and the bravery of the new ones that make the foreign exchange a fun experience for all.
"They were really nice," Gorhan said. "You can talk to everybody, and everybody is really open-minded and they let you sit with each other and that is really fun."