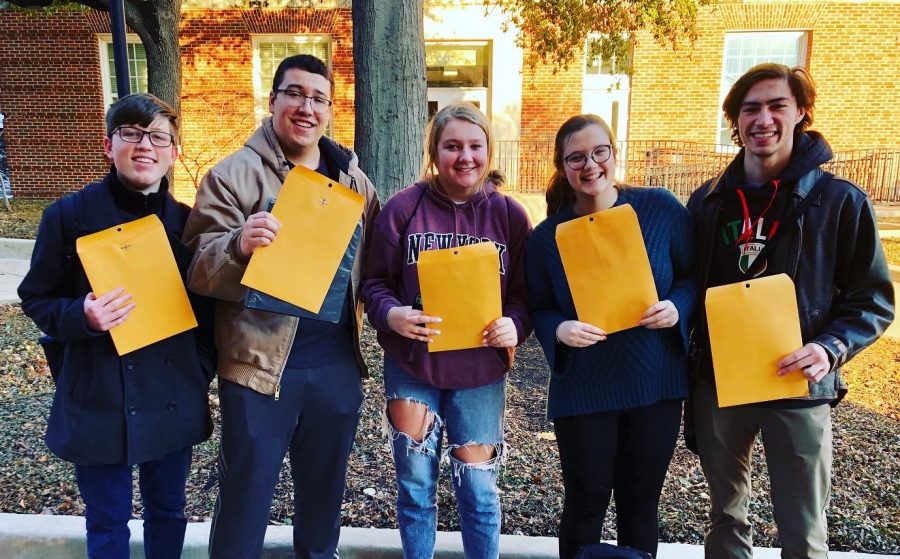 Record Five Students Advance to All-State Choir
January 28, 2020
After 10 students auditioned at the area round of choir on Jan. 11, five students will be advancing to TMEA all-state, making school history as the largest amount of students to advance. These students will attend the all-state clinic in San Antonio from Feb. 12 to 15. 
"We will all travel to San Antonio to join all the other all-state musicians, from orchestras to bands to other choirs," choir director Will Griswold said. "Those five students will go through two and a half days of rehearsal to perform a concert on Saturday afternoon for all the parents and choir directors throughout the state."
The auditions include three rounds: region, pre-area, and area. After each round, several students are selected to advance until it's narrowed down to 112 students in the state. 
"They have to go in and sing for five judges," Griswold said. "Those scores are then combined to find the top singers for that round, and after each round, there are fewer and fewer that move on. It's a pretty difficult process."
For auditions, students prepare multiple pieces and at each round, a selection from those pieces is chosen for them to audition with. 
"Sight reading is another component of the process," junior all-state qualifier Kassidy Rosengren said. "Once you arrive at the audition, they'll give eight measures of music you will have to sight-read during your audition."
To prepare, students not only practice their sight-reading skills but also attended a summer camp to learn their three or four audition pieces. 
"I sing and work out every single part and make sure what I am going to do on every single note that I sing," freshman all-state qualifier Levi Pabst said. "Because that's going to be the difference between who gets in and who doesn't."
These students dedicated most of their free time to perfecting their audition pieces, including practicing before and after school and attending sectionals during lunch.
"As we got closer, we would rehearse with everybody as a full ensemble," Griswold said. "But lots of individual time and me encouraging them to practice at home to put in that extra time went in so they could be as comfortable as possible in the audition."
At the beginning of the process, close to 3,000 students enter and are narrowed down to the final members at the last audition.
"I feel like you would kind of expect it to be super competitive but it's not," Rosengren said. "Honestly, people are a little nervous before auditions, especially before sight reading because it's something you can't control, but you just kind of walk around hangout. You get to chill with your friends from school and you get to meet other people from other schools."
Griswold attempts to get as many students as possible to audition to help them in the future. 
"Yes those five students worked their tails off to get to this point," Griswold said. "But if it weren't for the other 80 students in the program who were also working hard and also pushing these students to be better every rehearsal and every class, I don't think we would have that many students make all-state."
This was not Rosengren's first year making the all-state choir. She will be returning after qualifying last year as a sophomore.
"I was really nervous because I didn't know if I prepared as well as I did last year and I didn't know if I was going to be able to compare to what I did last year," Rosengren said. "It's kind of hard because I would always ask Griswold 'Do you feel like I am ready? Do you feel like I am all-state material?' because you're going against different people every year and auditioning for a different panel of judges every year. You really don't know what you are up against and you don't know what results you are going to get."
Including Rosengren and Pabst, freshman Aimee Gray, junior Austin Rusk, and junior Ethan Vanderwerken all made the all-state choir.
"Last year when I went to state I was all alone," Rosengren said. "I was so lonely because I was the only one from Argyle that made it and I didn't know anyone. Now I get to go with four other people. I'm really excited about the fact that I am able to just be with my friends and sing really challenging music."
At the all-state clinic, these students will get to work with Dr. Ken Fulton from Louisiana State University to further their musical abilities.
"When you look across the country, there's really nothing like the Texas all-state experience," Griswold said. "It's truly a unique once in a lifetime experience. It's bigger and better than all the other states, just because there are so many high-quality directors working with these students."
As the choir program continues to grow, Griswold expects more and more students to make the all-state choir, as two students were alternates this year and several others were only four or five chairs away from making it.
"I'm just really proud of the students," Griswold said. "Just so proud of them dedicating themselves to something that's super difficult and something that regardless of whether they make it or not, will turn them into better musicians."