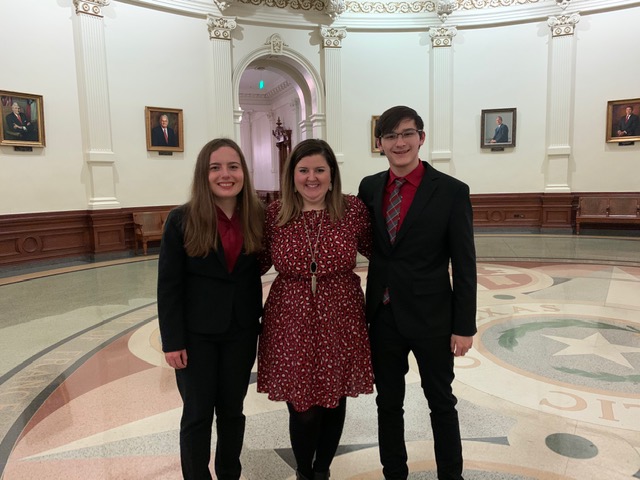 Congress Team Makes History
January 21, 2020
The debate team enjoyed great success while competing at the State Congressional Debate Meet in Austin on Jan. 14 and 15. Senior Savanna Lessley and junior Billy Mykel made school history by breaking to finals for the first time and ranked 15th and 16th respectively.
"I'm just overwhelmed," debate coach Jessica Reynolds said. "These kids have been making history on this debate team since I got here. They just always go above and beyond and each time we break through a barrier that we've never been through before I'm just so proud that we're doing a new thing in Argyle's history and bringing debate up to the level everything else at Argyle is."
Congressional debate models on a smaller scale the way the United States Congress runs and works. Students submit their own legislation and after debating, vote to pass or defeat the new bills.
"I think congressional debate has definitely pushed me in the direction of politics," Lessley said. "Going through the process of Congress and writing legislation has pointed me to understand more about the legislative process of our government and has definitely opened my eyes to how our policies and our laws are actually coming about."
In preparation for the state meet, students prepared and gave multiple speeches every day in the affirmative and negation for 20 different bills. The bills this year included proposals to disband NASA and Lessley's own bill to set standards in space mining.
"That would include doing a lot of background research on the topics at hand so I could fully understand what I was talking about," Lessley said. "As well as understanding the history of the ideas of these bills and resolutions and looking into any laws they may conflict with."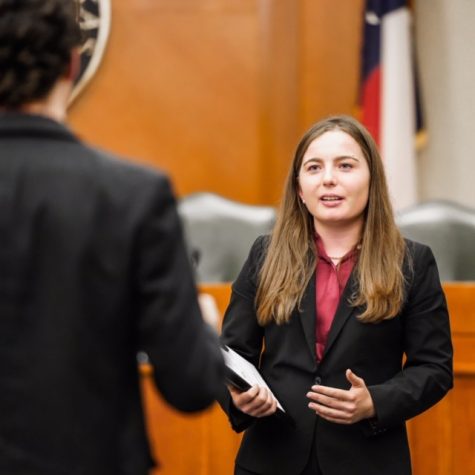 Once the speeches were written, students have limited opportunities to showcase their skills and win over the judges during the actual rounds at state.
"When it comes to the speeches, we've had them written months in advance, but in the three minutes you get to talk per speech it really comes down to how you present yourself," Mykel said. "I'm more thinking about my speaking presence – trying to keep my vocals at an engaging degree, thinking about my presentation, and trying to fill as much space as I can."
Speaking with and competing against the top debaters in the state can be nervewracking.
"I did feel a lot of pressure throughout the rounds and it definitely increased the pressure that it was essential my last chance since I'm a senior," Lessley said. "But as the round progressed, I realized more that it was my last congress round. At that point instead of my mind focussing on actually placing and scoring high in the room, I wanted more to just give a good speech and represent Argyle in the best way possible."
Making it to the state level is an achievement in and of itself, but Lessley and Mykel surpassed expectations by being the first in the school to break to the final round and speaking in the state capitol building.
"I was so overwhelmed with emotions," Reynolds said. "We have been qualifying for this event for state for three years now and each year have not qualified for the final round. Billy's name was called first because they went alphabetically by first name and I gasped and couldn't communicate. When Savanna's name was called I'm embarrassed to say I cried like a big ol' baby because I was very proud."
Reynolds has been championing the relatively young debate team for the past three years.
"She likes to joke that she got thrown into this," Mykel said. "But when it comes to debate, she is probably the best coach our team could've had. She does so much for our team, whether it's driving us to faraway tournaments, hiring judges, or figuring out strategies. It's far beyond anything we could've asked for."
Debate can be a very stressful activity, particularly for students with anxiety, so Reynolds also tries to be as nurturing as possible and see her kids as people first and debaters second.
"Ms. Reynolds has put a lot of focus on making us better speakers," Lessley said. "But not only that, but she has also made this event entertaining and something that we all want to do and she definitely puts a lot of energy in that.  I appreciate Ms. Reynolds as a debate coach and as a mentor, she has had a profound impact on my debate skills and my entire life."
Competing at the state level has given Lessley and Mykel numerous opportunities and a crucial skill set. Their knowledge of public speaking, current events, and their ability to view things from multiple sides will equip them for the real world.
"My kids research 20 different real-world issues that our congress right now is debating on," Reynolds said. "They research that and had to speak as experts on all of these subjects and it's just so important. I always think that when I go to vote, I would rather have one of my debate kids next to me in the voting booth rather than a kid who hasn't had all of this experience. They're so well informed and I think it makes them great productive citizens when they become adults. "
The debate team has no plans to slow down and are already working on cross-examination, Lincoln-Douglass, extemporaneous, and congress for next year.
"The competing team next year will comprise of Joe Thompson, Tristan Ball, and myself if nothing changes," Mykel said. "It's still going to be a lot of work and we're going to be putting a lot of effort into new bills which is exciting. With regard to congress, our future is bright."