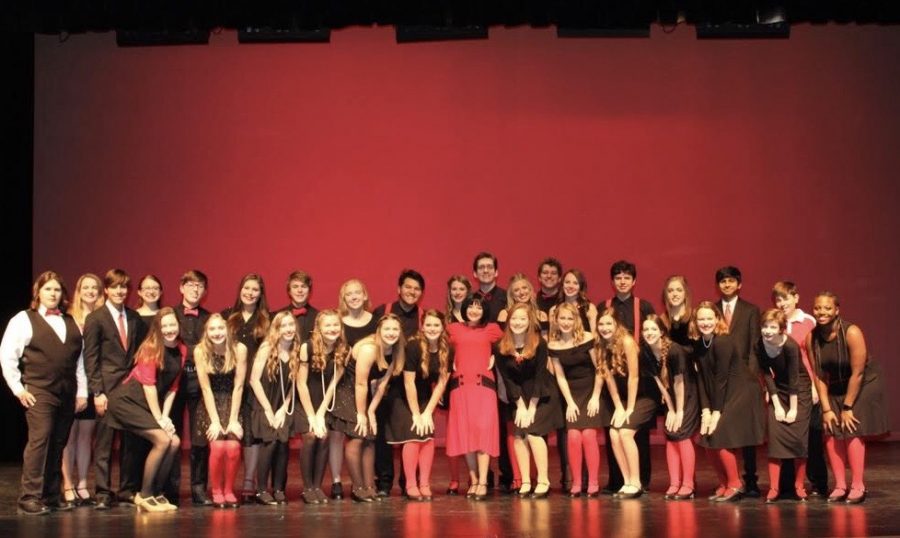 'Thoroughly Modern Millie' Jazzes Up School Musical
December 13, 2019
For this year's annual production, the theatre department will put on Thoroughly Modern Millie, an early twentieth century musical following the life of a young woman as she pursues her dream to become a flapper while also staying true to her heart. 
"Thoroughly Modern Millie is a different genre," Theatre Director Melissa Toomer said. "This is a 1920's era musical, so it's going to be a very heavy dance show with new styles of dancing, tap and big ensemble numbers."
This year's play has approximately 46 cast members involved.
"The play is about a girl that moves from Kansas to New York in the 1920's and she wants to be really modern and make it really big and so she has this whole plan of her life and everything goes completely whack," junior cast member Peyton Deffenbaugh said. "This play is super dance-heavy and it's such a hilarious script. The music is actually not a contemporary musical theatre, it's jazz musical theatre. It's really fun."
Theatre students have been rehearsing many times a week to learn the music, lines and choreography associated with each act. 
"My favorite part about Modern Millie is learning the music," Toomer said. "It's a new cast, kids are excited and we have a new music director that we have hired from UT Arlington. He is awesome to work with, just seeing him react with the kids and their skill level and their excitement is my favorite part."
Each cast member also has their own method of memorizing lines.
"To remember my lines, I get a piece of paper and I write down the first three words four times," senior lead actress Avery Winter said. "Then I will continue to write the rest of it four times, and then I write it all together."
Students enjoy theatre because of its safe environment and positive atmosphere. 
"Theatre is a really nice place to just be yourself and be goofy with a bunch of people because they are also being goofy, so it's just really fun to be goofy together," junior cast member Alex Govea said. "You should come and see the show because it's going to be crazy good and you can come and support your friends from Argyle."
The enjoyment the cast has extends beyond the friendships and shows. 
"I love how close you get to your cast over the time of working on the show because everyone gets to spend so much time together," Deffenbaugh said. "It's such a fun production and I've always done the musical and I have a blast every single year."
With a big production comes lots of nerves, which is something the cast has used to grow closer together. 
"Everyone would say they are nervous before a show because you always have your pre-show jitters," Winter said. "The way I get over it is having all of us together and we do this chant so it helps. We pray before as well."
Toomer hopes that not only the actors and actresses will be impacted by the show. 
"I hope that when people come to the show, not only are they entertained but they realize how much work goes into a theatrical production," Toomer said. "It's not just the kids on stage, but it's technicians who create the lights and who run the microphones and build the sets and do all the costumes. It's a lot that goes into a show."
Although the theatre department has teachers to help, the students put a lot of effort into pulling off such a big production. 
"The kids inspire me to put on a production like this," Toomer said. "Performances are going to be January 23th to the 26th at 7:00 on Thursday, Friday and Saturday with a matinee at 2:00 on Sunday."
The upcoming production will cost $10 for adults and $5 for children. You can purchase tickets here. 
"Come see the show," Deffenbaugh said. "It's in January, it'll be a blast, there are crazy plot twists and it's great."