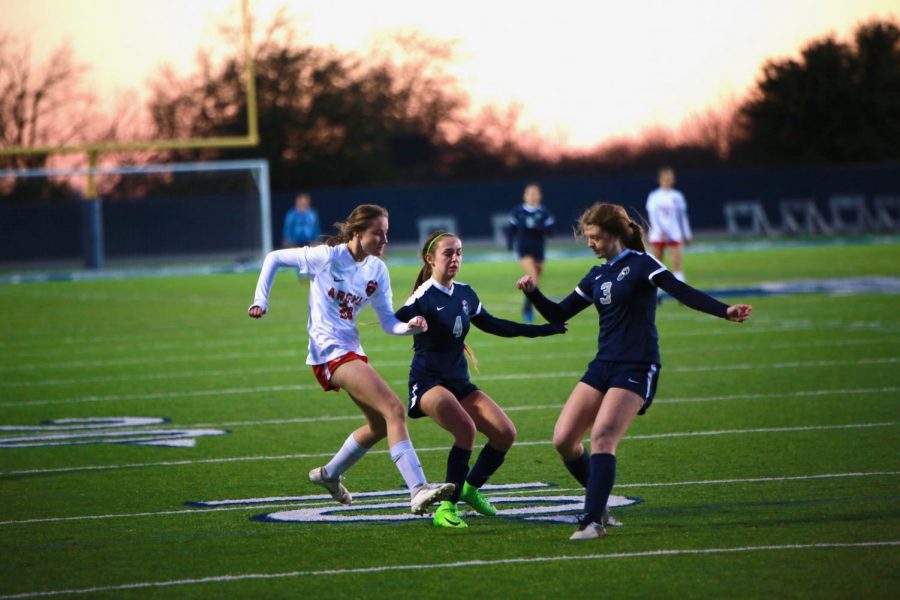 High Hopes for Girls Soccer Season
December 18, 2019
State Champs.
That has been the girls soccer team's goal since their defeat in the third round of playoffs last season. This year, however, that goal seems more possible than ever. Both the girls and Head Coach, Marc Koke, are on the same page as far as their goals for this season. 
"We're setting the bar very high," Koke said. "Last year we won the district championship and went to the third round of playoffs. With the group we have coming back plus our newcomers, we're setting the goal high. We'd love to be able to participate in the state tournament and have an opportunity to try and win the whole thing."
Throughout June and July, the girls have been going through summer conditioning followed by a quick practice. Once a week, the team participates in scrimmages against mostly 5A high schools to prepare for the upcoming season. During the offseason, their weeks consisted of two to three days of getting the soccer balls out to practice shooting, skill work, and scrimmaging. The other two days were spent in the weight room with extra exercises having an emphasis on ACL tear prevention and concussion prevention. The girls also had timed mile tests in which the time dropped every month to work on their endurance. 
The season has yet to start, but the team has already lost two girls to ACL tears which is very common in soccer. Junior Emma Coles, who was a move-in this year, tore her ACL at the end of October in practice. Not long after, returning varsity player and senior Kiernyn Lund tore her ACL, MCL, and meniscus at the beginning of November in a club game. Losing two players in just the pre-season is not a good start, but the team has been working hard to cover their losses and make sure they are doing what they can to keep themselves healthy. 
The soccer season officially started Dec. 2nd. Since then, the team has been practicing after school in addition to conditioning and lifting. The major difference between this year and last year is the huge incoming freshman class. The program was able to form both a Varsity and JV team with ten of the freshmen on the Varsity team.
"I'm really excited to see all the new girls," Koke said. "We have a very large freshman class, and quite a few move-ins, who I haven't gotten to see play in person yet at the high school level, so just excited to see how they mesh with our returners and the type of product we'll put out on the field."
In their first scrimmage against Liberty Christian, the girls won the "city championship" 2-1. Their first official game is Jan. 3rd, where they are participating in a tournament that weekend. 
"I'm just really excited," Koke said. "I've been looking forward to this season for a while now and we can't wait to get started."