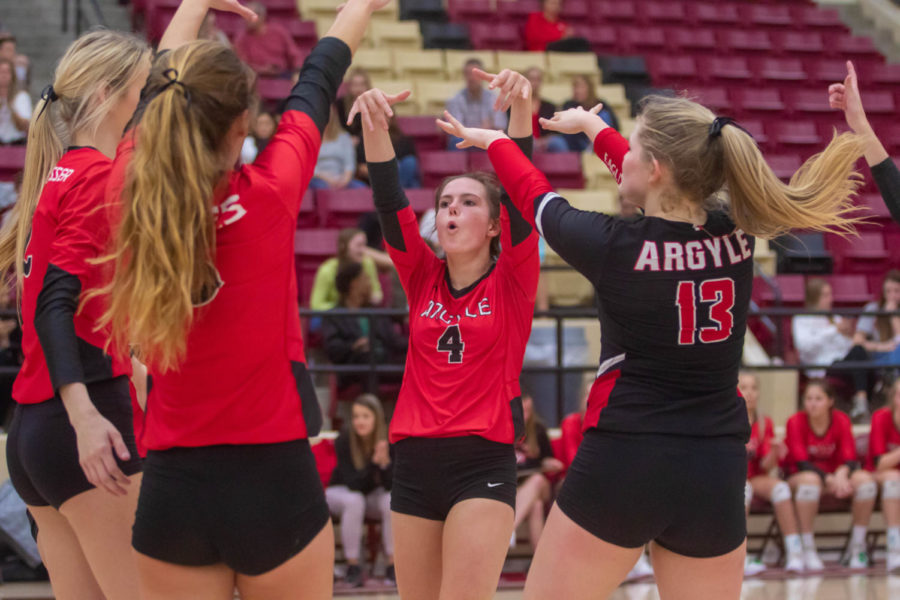 ©The Talon News | Alex Daggett
Seniors Lead Lady Eagles to First Round Win
November 6, 2019
The Lady Eagles volleyball team competed against the Glenrose Tigers at Saginaw High School in the first playoff game on Monday, Nov. 4. The game was quick, with the Lady Eagles winning in just three sets. Getting this win named them the bi-district champions and continues their season on to play for the title of area champs.
The Lady Eagles went undefeated during the district season and with this game, they now have a record of 33-5. With injuries, illnesses, and travel, this was the first game that all 15 girls on the team were on the court together and able to play. 
The game started off strong with Argyle winning the first point of the game. From there on through all three of the sets the Lady Eagles were only behind in points on a few occasions. Argyle's defense got increasingly better as the game went on and they continued to dominate on the offensive. The first set was won 25-17 going back and forth with each couple points at the beginning. The Lady Eagles pulled ahead and were able to get a victory in the first set. Then, in the second set, they won with a score of 25-16. The third set ended the game with a score of 25-15 winning the game and securing the Lady Eagles' title of bi-district champions. 
Seniors Kassidy Reeves and Mariah Hesselgesser both had outstanding games. Reeves had many point-saving plays and perfect sets the entire game. Hesselgesser was extremely effective on both the offensive and defensive sides of the things. On the defensive side, she had countless blocks and many consecutive in a single rally. On the offensive end, she had many kills that seemed almost impossible to defend which helped enormously for Argyle's points. 
The team worked their hardest the whole game and never let up even when they were far ahead. It was evident how much the team enjoyed having all their teammates there and able to play. There was also a big turnout of fans including students, faculty, and families that played a part in the excitement and energy of the game. 
The Argyle Lady Eagles will now play the Greenwood Rangers in the second round of the playoffs in Abilene, Texas. The game will be on Thursday, Nov. 7 and will start at 6:30 p.m.