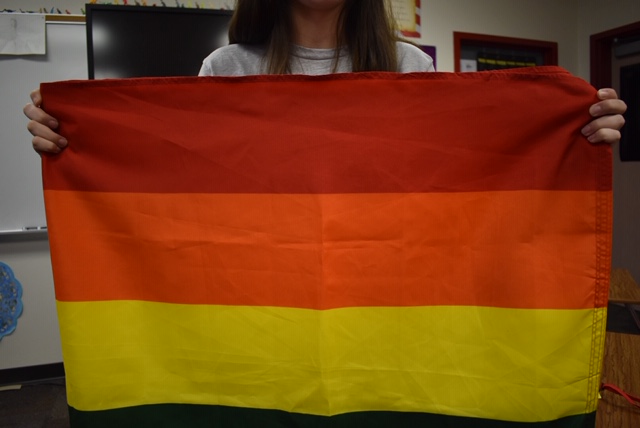 ©The Talon News | Sarah Crowder
School Establishes GSA Club
November 18, 2019
To educate and promote acceptance, two students founded a Gay-Straight Alliance (GSA) club. The club meets during A-lunch in World History teacher Matthew Woody's room. 
"Well, I realized that although there are many queer students at Argyle," senior co-founder Shay Tjandramulia said, "There wasn't really a safe space for us to talk about our issues. I was so surprised no one had done it yet so I was like 'If someone has to do it, why not me?'"
After Shay came up with the idea of creating a GSA club, they approached Woody and librarian Alicia Montogomery about making it a reality and discussed how to move forward from there.
"I had a student approach me, wanting to start the club and being a teacher and an educator I need to be here for kids no matter what," Montgomery said. "I knew it was a great opportunity to accomplish something they really wanted to do so I wanted to help them in any way I could."
The club, originally planned to begin in the winter of last year, was pushed back until the beginning of this school year. Now that it's begun, the club is largely student lead. 
"There are three aspects to [the club]: social, advocacy, and education," Tjandramulia said. "We've been talking about LGBTQ+ history month and I was thinking of doing something for Trans Day of Silence. Trans Day of Remembrance is coming up in November and we want to do a vigil for all of the trans people who have died this year."
The main goal for the club is to establish acceptance for the students and a place to discuss these issues. 
"I feel like it achieves its mission on day one simply by having a space for people to feel comfortable," Woody said. "If we just take it a day at a time and gain a little acceptance here in the classroom and have it spread throughout the school then that's awesome, that's great."
 According to the Human Rights Campaign, 92% of LGBT youth say that they have heard negative comments about being LGBT. 
"It's really so that people feel open and feel like they can be open," sophomore Luci Reed said. "So its more so for people to know that it's ok to be who they are instead of hiding it."
This is the first time a club geared toward LGBT students has been established at Argyle High School.                                                                             
"I'm incredibly proud of the group," Montgomery said. "I know that the student who approached me wanting to start the group really took a risk and was really passionate about it, and because of her passion is why it got started. It could have fizzled out, but she was really committed, and ready to work hard to make sure it got off the ground. I think it's great to see young people on fire and really dedicated to something, and I know I'm going to keep feeling like that all year."
Already, the club has begun accomplishing its goal of promoting tolerance and kindness, and more importantly, making students feel like they can embrace who they are.
"What I do see," Woody said. "Is students who don't normally participate in class, participating in the GSA club. Voices that are normally quiet, are no longer quiet, and it's so cool because they may not feel the confidence to speak up."
Sources:
https://www.hrc.org/youth-report/view-and-share-statistics