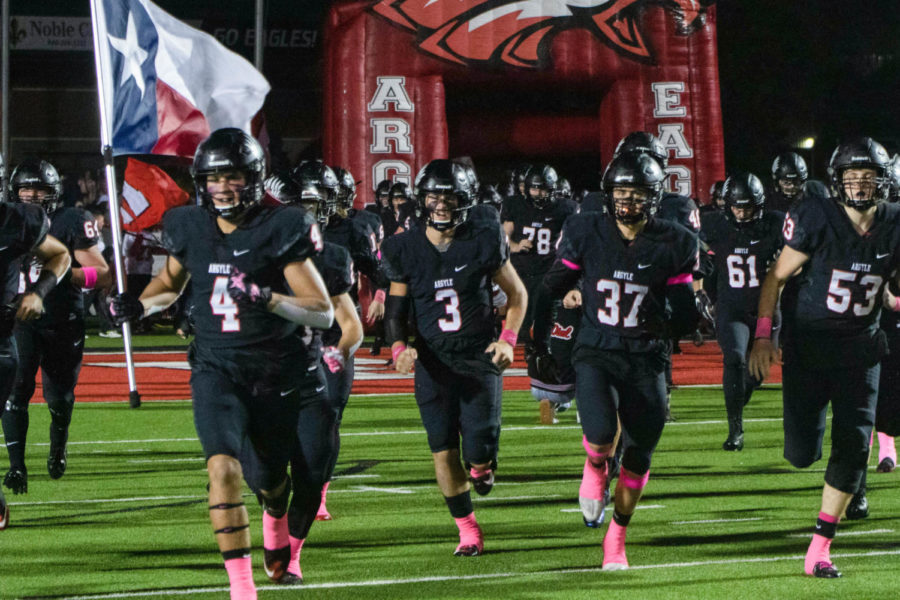 ©The Talon News | Josh Fritz
Eagles Defeat Cardinals for District Title, Hogeboom Breaks School Record
The Argyle Eagles Beat the Melissa Cardinals 70-48
October 29, 2019
The No. 1 Argyle Eagles went head-to-head versus the No. 10 Melissa Cardinals, on Friday, Oct. 25, at Argyle High School.
Coming into this game, senior quarterback Bo Hogeboom needed only three touchdown passes to break the record for most touchdown passes in a career, which was previously held by Austin Aune with 79 TD's. Hogeboom shattered the record in the second quarter, with a two-yard pass to 6-foot-5-inch tight-end Jasper Lott that extended their lead to 49-21 going into half-time. 
"It was an amazing feeling and a great honor to be atop of the record," Hogeboom said. "But I couldn't have done it without the help of all of my [offensive] lineman and great receivers that have been beside me throughout my career."
He threw five touchdowns in the game for 228 yards. 
Hogeboom was able to rely on his tights-ends in the game, throwing two touchdowns to them and completing five passes for 44 yards. Sophomore Grant Chaney was able to catch his first pass in the endzone during the first quarter to start the game from 12 yards out, and Lott was able to catch four passes for 32 yards.
After losing junior running back Tito Byce to a knee injury early in the first quarter, the "Next Man Up" mentality was truly put to the test. Senior running back Luke Farris was able to pick up the slack and capitalize on this opportunity in the ground game. Farris was able to get career-highs in both rushing yards and touchdowns, breaking the records he set just a week earlier against Paris. He picked up 272 total scrimmage yards and five total touchdowns, four of which came in the first quarter.
"With our rotation this year I have always been mentally ready to go in," Farris said. "When the time came, I made sure to perform to the best to my ability."
The defense did not disappoint in this game, even against Melissa's high powered offense. The defense was led by senior defensive end Braiden Rexroat, who without a doubt had the best game of his career, going for eight tackles, two tackles for loss, two sacks, a 16-yard interception returned for a touchdown, two forced fumbles, and a fumble recovery. Rexroat's stat sheet filling performance has received major recognition, including a nomination for "Hero of the Week" by the Dallas Morning News.
The Argyle Eagles will compete in their final road game in Anna, Texas, where they will face the Anna Coyotes on Friday, Nov. 1. Kickoff is at 7:30 P.M.