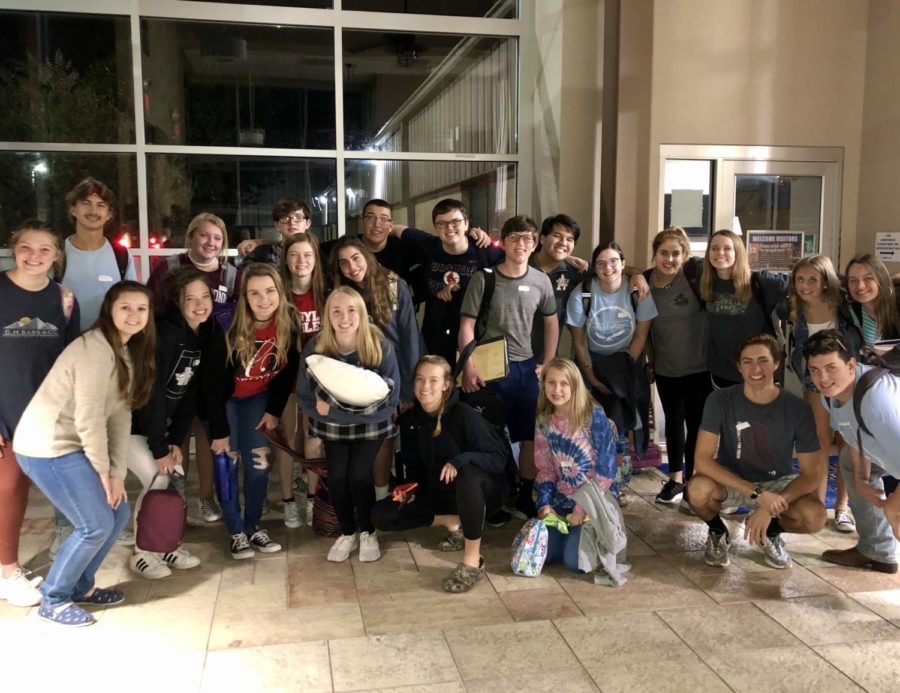 16 Students Advance to All-Region Choir, Learn from Past Auditions
October 22, 2019
Sweaty palms and dry throats can be all too familiar while auditioning. But the chance to perform with the best young singers in the state makes the stage fright worth it.
After rehearsing for months and auditioning on Oct. 8, 16 out of 23 choir students made the All-Region Choir, a record for the program.
"The thing that I walked away with Tuesday was that our students were more prepared than any other students from other schools," choir director Will Griswold said. "They were more confident, they were more musical, they were just more ready to walk into an audition room. My goal is always to set them up for success and have them perform well."
The Texas Music Educators Association (TMEA) choir auditions are a three-part process, with Region, Pre-Area, and Area auditions with the end goal being State. 
"Throughout the state, there are about 3,000 students who will audition," Griswold said. "At the end, there will be 112 students left. One of the hardest things about [the audition is] the large number of students that audition for the process. You just have to really be prepared and be as confident as you can because I know, just this Tuesday, we had 70 sopranos audition and they only took 22 of them. We had 50 altos audition and they only took 20, so they cut down on the number of students very fast."
To prepare for auditions, sopranos, altos, tenors, and basses have sectionals with Griswold once a week. Students also had the opportunity to attend All-State camp over the summer where they were taught the six songs that they will audition with.
"Last year I made it to State and took [the audition process] really seriously," junior soprano Kassidy Rossengren said. "I'm making sure that this year I take it just as seriously as last year. Anything can change, anything can happen. It's been a lot of preparing, a lot of just working really hard and making sure I'm at a level where I need to be. I surround myself with this repertoire, I am breathing and swimming in this music for the next four months."
Students are given a minute and a half cut of three pieces of music the day before they audition. In addition, they have eight measures of sight-reading: music they have never seen before and have to sing after 30 seconds of studying.
"[The audition] was pretty surreal," freshman bass Levi Pabst said. "Especially when I got my name tag and it told me that I was going to be the first person to audition out of everyone in the room."
Three freshmen from Argyle made the region choir, which is seen as especially impressive considering the difficulty of the pieces.
"It's a lot more difficult than the music that you would sing in your regular high school choir classes," Griswold said. "Not only is it in another language most of the time, it's got a wider range for the voices, it's more technically difficult. It's definitely considered some of the hardest music that a high school student can sing."
Despite the music's difficulty, 20% of the region choir is made of Argyle students. 
"I think that in general, a lot of the students don't realize how much they can push themselves," Griswold said. "All-State is a big thing and it can be scary at first, it can be overwhelming. They can wonder if they're good enough for that, but once it's started and they keep working, they get to the end of the process. If they make it or they don't, it's made a difference and impacted who they are. I really love to push the students and try to help them maximize their potential, both as musicians and as people. And it trains them to treat everything in their life that way."
 Pre-Area auditions are set for Nov. 14 and will advance a select number of students to Area before the State concert and clinic in San Antonio.
"I will always be so supportive of this process," Rossengren said. "It's so rewarding as a musician to go to these auditions and compare yourself and you know that in your heart you're good enough to be here in this choir and be in this process. [Even] if you didn't make it through the process you know that you have work to do."