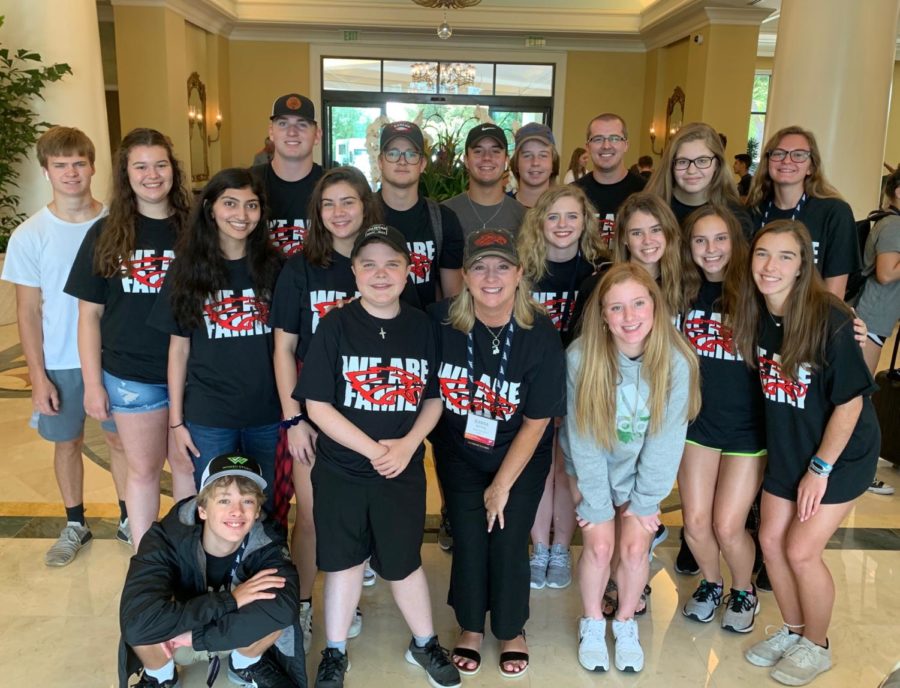 Twenty-First Century Renaissance
New club promotes unity and friendship
August 30, 2019
Although many people think of renaissance as a historical term, one teacher is bringing renewal to the meaning of renaissance. 
The term renaissance means renewal or rebirth, which is the exact premise this club was founded on. As Argyle continues to grow, the school district wants to keep the family atmosphere alive, and that can be accomplished through the Renaissance Club. The idea to start a Renaissance Club began a few years ago when English teacher Jeanna Sutton attended a leadership conference. 
"When I got there, I looked around and realized that there were so many kids there and I realized that if we really wanted a true change in our school that it has to come from the kids," Sutton said. "It can't come from a teacher." 
This past summer, Sutton traveled to Orlando to attend another leadership conference- this time taking 17 students with her. One high school student who went on the trip, junior Allie Long, said the trip changed her perspective on school. 
"Everybody that I've talked to said that they feel like school is a chore and that you're being forced to come here," Long said. "I want it to be a fun place where people like to go, and they don't have to feel like they don't have any friends or that they're alone. I want them to feel happy that they have to be here."
Although it may sound similar to Challenge Day Club, Renaissance Club is focused more on spreading positivity outside of the school campus.
"It's not a specific club but more of a movement," Renaissance Club ambassador Lauren Allen said. "I think this club will really change the school culture and help people who don't like to be here to enjoy school more."
Renaissance club plans on doing various activities to promote school spirit such as performing dances at school pep rallies, attending sports games together and possibly even painting a mural. 
"Whenever I came here, it was really difficult to make friends," Long said. "One of the main things that I've learned from Challenge Day club is how important it is to put yourself out there. Just be yourself. Don't be afraid of what other people think."
The club even created a shirt with the phrase "we are family" written across the front. Students in the club will wear the shirt when attending school-sponsored events and on pep rally days. 
"It's our goal that every kid at this school would want to be at school," Sutton said. "It's our goal to change the atmosphere that everyone is excited about coming to school."
The club hopes to have 100 students attend the first official meeting next Tuesday during A lunch.
"We want kids to show up together to support sports that don't usually get support, such as the girls' soccer team who hardly ever has anybody there," Sutton said. "We want Renaissance kids to be able to do that and feel comfortable helping others. It is going to be different from Challenge Day Club because it is more focused on building relationships between students and helping our school be better."
Twenty-First Century Renaissance