'Sky's the Limit'
Lady Eagles Soccer Returns for New Season
Starting in the middle of December, the Argyle girls' soccer team will begin their season and start playing against other teams. While they have not started yet, they have been practicing and getting ready for the 2022 season since the end of last soccer season, which ended in the spring of 2021. The girls have been practicing and working on drills to enhance their skills. Last year, they were able to make it to the regional finals but this year they hope to make it all the way to state. 
"We have a lot of high expectations that we set for summer conditioning and really good participation in summer conditioning," soccer coach Marc Koke said. "We did skills training over summer, did a team camp, and so far this fall we've been working really hard. A lot of these girls play on teams outside of school too so they've been working very hard preparing for this upcoming season."
Along with preparation for the season, they have also been focusing on school and other various extracurriculars. 
"It's more about sacrifice and just doing what you have to do," junior Trinity Carter said. "Grades always come first and soccer is a privilege. If you are taking care of work in the classroom, you can play on the field."
Their first game will be on December 14 against Braswell high school at the Eagle Stadium.
"We are looking pretty good," sophomore Alyssa Ward said. "We have some new faces this year. They are pretty good. They are really talented. We think there is a good potential to go to state."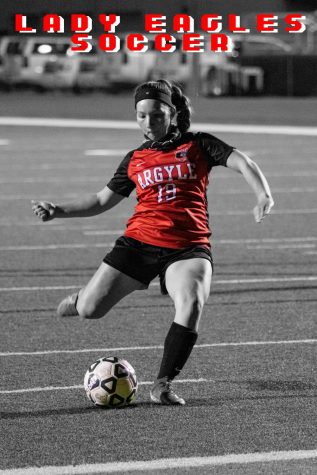 With just under fifty players total, the girls are split into two teams but are able to do scrimmages during practice. Most of these girls also play on a select team outside of school which helps them develop their skills even further.
"I play for the Dallas Texans," Carter said. "I think it has helped me make more relationships than I would in school because I don't play with anyone I go to school with. It allows you to have more competition than you would in school."
With a few new additional players and even more practice, the team is hoping to improve from last year. Also, they hope to beat Midlothian Heritage, the team they lost to in the regional playoffs last year, if they face them again in the playoff bracket. 
"I'm excited," Koke said. "I think the sky's the limit. We had our best season ever last year. Our goal is the state championship"