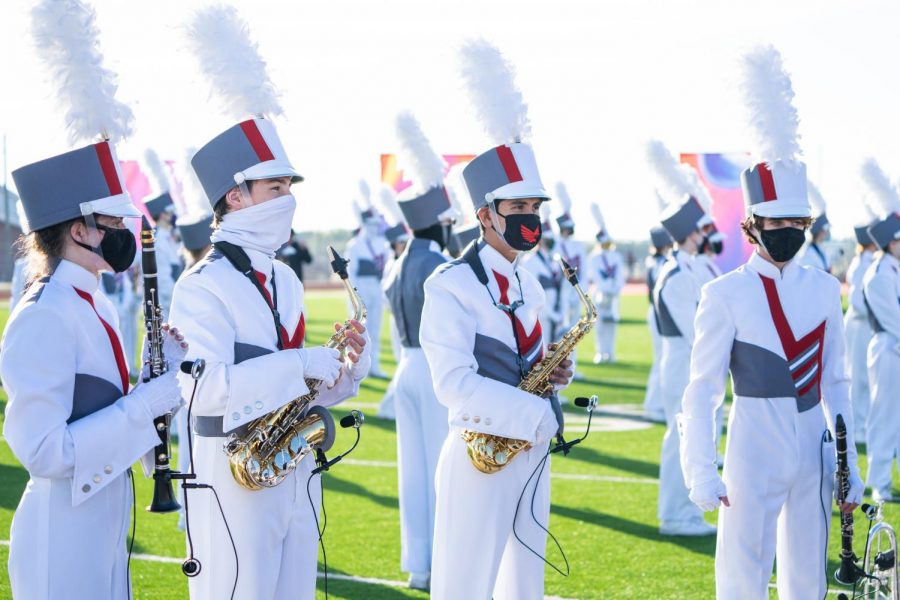 ©The Talon News | Nicholas West
Band to Compete in Sounds of Springtown Marching Contest
November 2, 2020
The marching band currently holds six state championships and is the 2-time runner-up at the state marching contest. This year they have the chance to compete for another title at the state competition.
This weekend the band will be competing in the Sounds of Springtown Marching Showcase. Last year, the band won this competition with their show "Into the Light." They beat out schools such as Fossil Ridge High School, Alvarado High School, and Arlington High School. This year they will be competing against Alvarado High School again, as well as North Crowley High School and Brewer High School. They will be performing at Springtown Porcupine Stadium on Saturday. The band will have one performance at 4:50 p.m. The Argyle drumline and pit will also be performing in the drumline showcase immediately following the conclusion of the marching show. They will be performing at the transportation center at Springtown High School.
This year will be different from other years, as there is only one performance rather than a preliminary round first and then finals. This means that if a band does not perform well on their first try, they do not have a chance to win the competition, even if in a normal year they might have squeaked into finals. Vice versa, if a band performs well they don't have to worry about doing worse in finals and losing. In a UIL Marching Competition, there are 5 judges. Three are music judges, while the other two are marching judges. The marching judges score the band on 4 different aspects: individual marching, ensemble marching, drill (the pictures created), and integration of marching components which is the color guard. The music judges score the band on 5 different components: brass performance, woodwind performance, percussion performance, ensemble performance, and musicianship. The total possible points to be scored in music per category is 200 points, while in the marching category you can earn a total of 400 points for individual marching as well as ensemble marching. The drill and integration of marching components can only earn 100 points for each aspect.
Please consider coming out and supporting the Argyle Band this weekend. They would really appreciate and love the support.