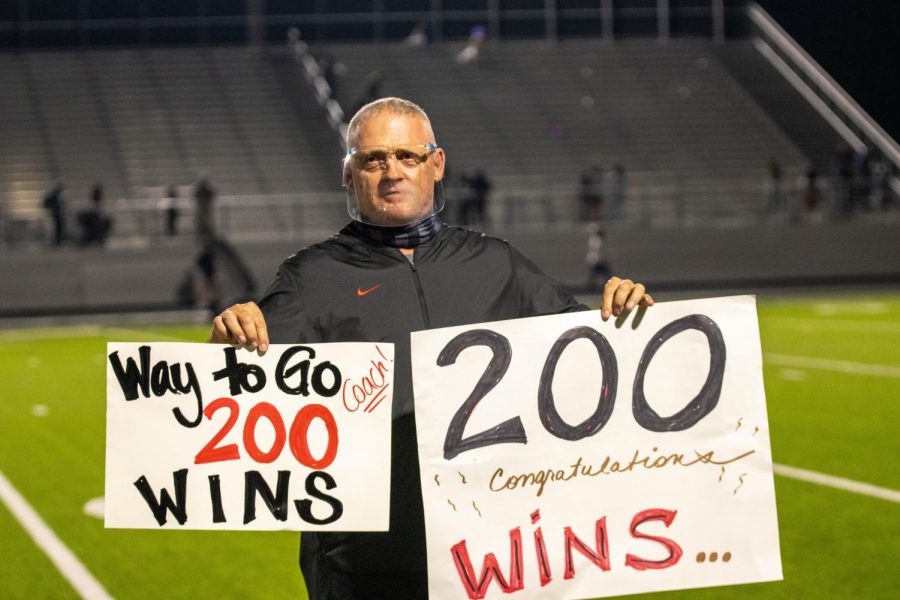 Head Coach Todd Rodgers Hits 200 Career Wins
October 30, 2020
Head coach Todd Rodgers led the varsity football team to a 45-7 win against the Anna Coyotes on Oct. 8. The crowd roared as the Eagles remained undefeated, but, along with this, Coach Rodgers was awarded his 200th career win as the Eagles head coach. 
Rodgers has been coaching at Argyle for the past 18 seasons and has consistently produced wins.
"The sky's the limit for the team and Coach Rodgers," former receiver Alex Gonzales said. "He's been able to get the team to work together consistently year in and year out."
The impact of Rodgers and his coaching style can be felt on and off the field by players, fans, and other coaches.
"Coach Rodgers has done a great job of allowing me the chance to fail on my own," Defensive Coordinator Daniel Lundy said. "I am grateful that he trusted me enough to let me fail at times."
Rodgers credits the team's success over the years to the community built within the program.
"This is a community built around working hard," Coach Rodgers said. "The people that we have here around us are instrumental in our success."
Rodgers has an unmatched passion for football and with that passion, he has been able to lead the Eagles on and off the field.
"One thing that I nor any of the players will ever doubt is Coach Rodgers' passion and love for the players and the program," Lundy said. "When you know someone is invested in you, then following them is a natural action."