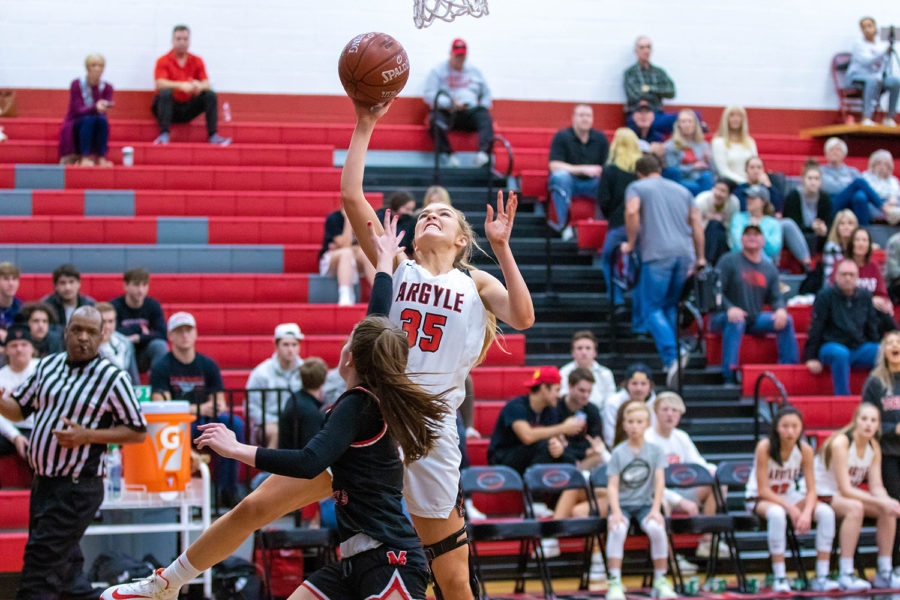 Lady Eagles Breeze Past Melissa, Improve Record 7-3
December 4, 2019
The Lady Eagles went head to head with the Melissa Cardinals on Tuesday night. The Lady Eagles went into the game with a 6-3 record and were attempting to rebound after last week's loss to Lee in the Nike Hoopfest tournament, while Cardinals came in red-hot on a two-game winning streak, beating their last two opponents by a combined 21 points. 
The Lady Eagles jumped out to a fast start with 27 points in the first period and played stingy defense limiting the Cardinal's offense to only six points. This was a stark contrast to the previous game where the Lady Eagles gave up 15 points in the first period to Lee.
Senior Brooklyn Carl played a big role in the Lady Eagles' strong defensive with several big takeaways and rebounds. 
"Last game we didn't play defense as well as we normally do," Carl said. "This game we rebounded way better and our defense got better and that's how we win games." 
The Lady Eagles held onto the lead the whole game and continued to rack up points offensively, finishing with a total of 71 points. This is the first game of the season where the Lady Eagles scored over 70 points. 
"Defense and rebounding were our strengths this game," Carl said. "Whenever we play good defense our offense goes good, and if we play bad defense our offense won't be good." 
In the end, defense was the strong point for the Eagles as the Cardinals ended the game having only scored 26 points. This was the Cardinals worst loss of the year and snapped their two-game winning streak. 
"Everyone did their role and contributed to the win," Carl said. 
Even with a huge margin of victory, the Lady Eagles are always looking to improve as a whole and never slow down, which is a huge reason why they have won state five years in a row. 
"Improve on our defense," Carl said when asked on where the Lady Eagles can improve their game. "Our overall goals are keeping them to less points, because we really like playing defense and that wins games."
The team's motto this year is #TOGETHER because they want to place a strong emphasis on the team aspect of the game. They were able to successfully do this during this game.
 The Lady Eagles will battle the Bishop Ireton Cardinals at Mansfield on Saturday, December 7th, at 1:00 P.M in their next game. 
Photos from this game, and others, can be purchased at Photos.thetalonnews.com