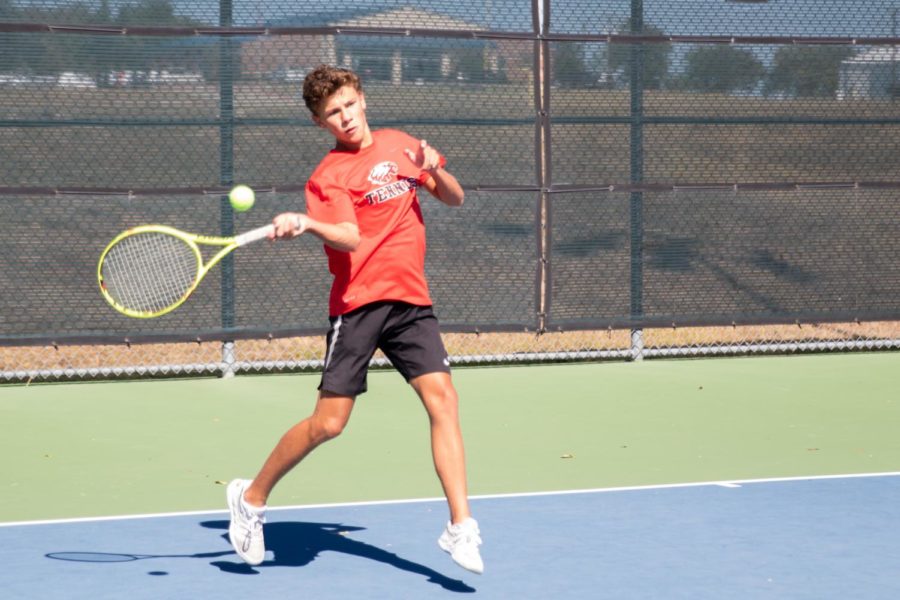 Tennis Team Breaks School Record
November 19, 2019
This year's tennis team has made it closer to state regionals than any other years passed.
"This is the first time we have been this successful as a team which is a great achievement for any program," Coach Jordan said. 
One of the things that has changed this year's team is the addition of Coach Hendrickson.
"I feel like this year we have a new coach who really helps out a lot," junior tennis player Grace Fife said. "He tells you what you are doing wrong and makes sure you fix it. I feel like we had such a great shot at winning the state this year and everyone wanted it." 
Those involved in tennis consider it to be one of the hardest sports. 
"Tennis is a lifelong sport for two reasons: it takes a lifetime to learn it and you can play your entire life," Coach Jordan said. "To be a good player it takes patience and persistence. Those who spend their practice time being intentional in what they are practicing are the most successful." 
The tennis team knows being successful requires lots of time and practice.
"Usually I practice in the morning and I start at like 6:50 and am not done until around 8:05," varsity tennis player Nicky Villarreal said . "Some days I go home and practice indoor tennis 3 to 4 hours a day when I'm at home."
Having a consistent positive attitude is key to being successful. 
"Very few angry players are successful at the sport," Coach Jordan said. "You make mistakes, you learn from them, you move on. If you don't, you carry a bad attitude into the next few points which affect your focus." 
Tennis players have learned many life lessons from the sport. 
"Some life lessons I have learned from tennis are to not get mad so easily, never give up and keep trying," Grace Fife said.