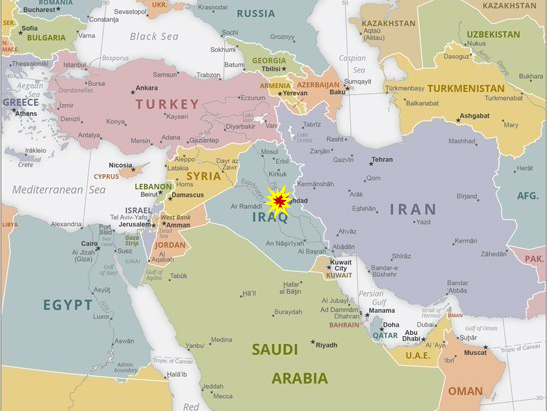 Iranian General Killed in Airstrike (At the Moment with Billy Mykel)
January 9, 2020
Iranian General Qasem Soleimani was killed on Jan. 3, in a targeted airstrike ordered by President Trump. Soleimani, a man revered and respected as a living martyr of the Islamic Revolution, has now fulfilled this title in the eyes of the Iranian people through his death by the hands of the United States. With the threat of war seemingly subsided following an Iranian ballistic missile attack, many people have found themselves wondering who Soleimani was and why he was targeted in the first place.
Soleimani was targeted because of the many atrocities committed during his command.
Qasem Soleimani started his military career during the height of the Iraqi invasion of Iran and quickly gained prominence as a national figure while he rose through the ranks of the Revolutionary Guard, soon becoming the public face of the Iranian military. Soleimani was later given command of the Quds force in 1998, officially beginning his reign of terror across the middle east. Despite innumerable ties to terrorism, countless attempts to assassinate rivals and foreign leaders, and massive anti-government resentments during the height of sanctions, Soleimani remained an incredibly popular figure in Iran. That popularity was thanks not only to his military roles in preventing the Iraqi invasion and leading the effort to counter American influence, but also to his charismatic personality that captured the peoples' attention.
The reasoning behind the operation that killed Soleimani came from his infamous reputation as a military leader. As leader of the Quds Forces, Soleimani was responsible for projecting Iran's power and influence in other countries, making use of what Iran dubbed "unconventional warfare". This so-called unconventional warfare included operations to plant terrorist cells in other nations, supporting pro-Shi'ite groups, and arming anti-American militants. Soleimani carried out these goals with terrifying efficiency, successfully starting car bombing campaigns across the Middle East and one in Bulgaria that killed several people. Soleimani was also responsible for planning several attacks on U.S. servicemen and on American soil, supplying terrorist groups and anti-American Syrian forces with bombs specifically designed to pierce American armor and unsuccessfully attempting an assassination on the Saudi Arabian ambassador in New York. These attacks cost the lives of thousands of people across the world and gained Soleimani and his Quds force a terrorist classification by the U.S., Canada, and several other targeted countries. In the end, these facts were not the primary reasoning in the decision to carry out the attack. The final decision by President Trump came after reports that Soleimani was planning a new attack on American soil, which has been scrutinized by members of Congress that received the report following the attack.
Whatever the real reasoning behind the operation that killed General Soleimani was, it is clear while he will be mourned in his country. The rest of the world will not miss this ruthless man.
Sources: