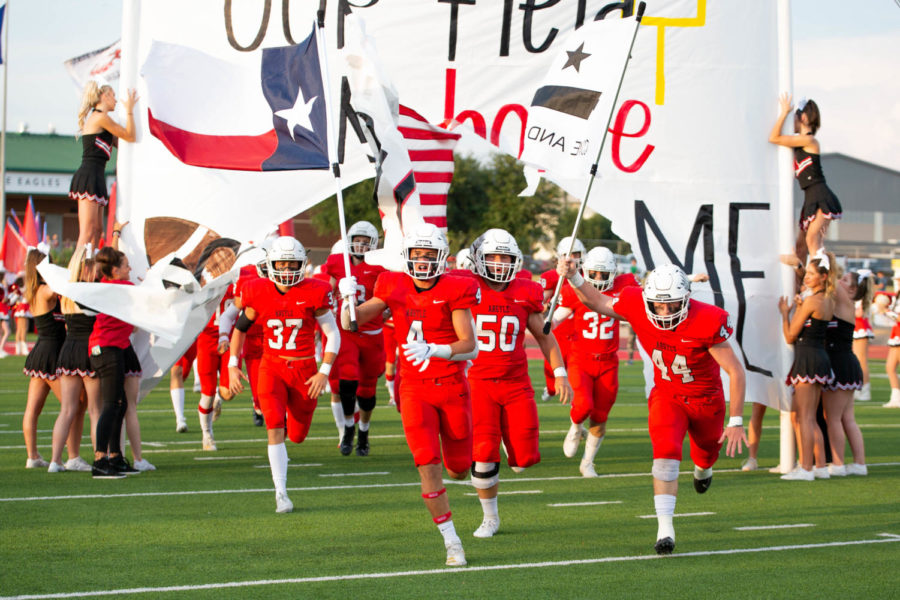 ©The Talon News | Jordyn Tarrant
Eagles Offense Decimates Bulldogs
September 16, 2019
The first Argyle Eagle home game was on Friday, September 13, where they went head-to-head against the Tyler-Chapel Hill Bulldogs.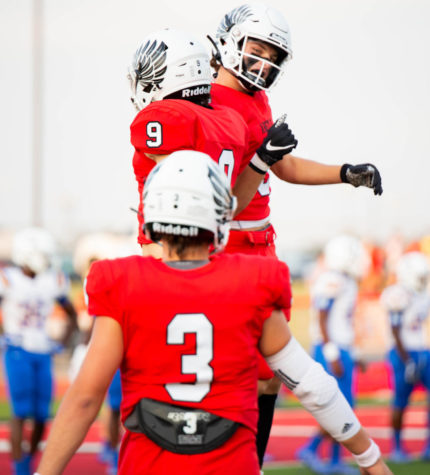 Coming into this game, the Eagles have won 30 consecutive home games dating back to the 2012 season, where the Eagles fell to Abilene Wylie in the first game of the season.
The Eagles offense was booming from the first drive of the game,  junior running-back Tito Byce scoring his fourth rushing touchdown of the year.
Byce last week against La Vega had a career-high 207 rushing yards, but this week Byce didn't disappoint rushing for 192 yards and getting two touchdowns including an 81-yard run to the house.
That was just the beginning for this offense, after a turnover on downs for Chapel Hill, quarterback Bo Hogeboom threw a 45-yard bomb to junior wideout Cole Kirkpatrick for a score, to put the Eagles up 14-0
An electrifying offense is a must to score, but a shutdown defense is how you make it deep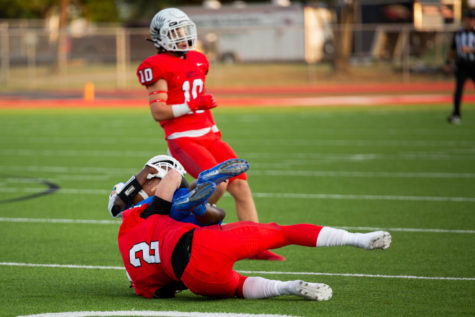 in the playoffs and contend. Defensive back Jake Sullivan snagged another interception to continue his dominance in the defensive secondary.
The interception led to a one-play 20-yard touchdown reception for senior Alex Gonzales, to have a 21-0 lead not even
halfway through the first quarter.
The offense could not be stopped, which was the reason they were able to build up a 49-0 at halftime, with an outstanding 419 total yards of offense.
The Argyle Eagles dominated every aspect of this game, winning 62-7. Their offense had 637 yards of offense with over 300 rushing yards.
The Argyle defense forced three turnovers, two interceptions, and a fumble recovery, and allowed the Bulldogs to have 104 total yards of offense.
At half time, Argyle High School was presented their eleventh Lone Star Cup Championship, winning for the ninth straight year. This past school year Argyle and Dallas Highland Park tied with the most points, 124.
The Argyle Eagles get a week off, due to their bye week. However, they will be playing on Friday, September 27, all the way in Sulpher Springs, to face the Liberty Eylau Leopards. Kick-off will be at 7:00 P.M.
---
| | | | | | | |
| --- | --- | --- | --- | --- | --- | --- |
| QB Name | Comp/ Att | Yards | Comp% | TD | INT | QBR |
| Bo Hogeboom | 12/21 | 164 | 57.10% | 4 | 1 | 102 |
| CJ Rodgers | 5/8 | 63 | 62.50% | 0 | 1 | 47.4 |
| | | | | |
| --- | --- | --- | --- | --- |
| RB Name | Carries | Yards | Yards/Carry | TD |
| Tito Byce | 15 | 192 | 12.8 | 2 |
| Luke Farris | 16 | 125 | 7.8 | 1 |
| Knox Scoggins | 18 | 69 | 3.8 | 1 |
| | | | | |
| --- | --- | --- | --- | --- |
| WR Name | Catches | Yards | Yards/Catch | TD |
| Alex Gonzales | 4 | 57 | 19.7 | 1 |
| Cole Kirkpatrick | 3 | 59 | 14.3 | 2 |
| Gannon Pels | 2 | 38 | 19 | 0 |
| | | | | | | |
| --- | --- | --- | --- | --- | --- | --- |
| DEF Name | Solo Tackles | Assisted Tackles | Total Tackles | TFL | Sacks | INT |
| Will Ramsey | 3 | 3 | 6 | 0 | 0 | 0 |
| Cullen Davee | 2 | 3 | 5 | 0 | 0 | 0 |
| Braiden Rexroat | 4 | 1 | 5 | 1 | 1 | 0 |
| Ty Johnson | 2 | 2 | 4 | 2 | 0 | 0 |
| Tate Van Poppel | 2 | 2 | 4 | 2 | 1 | 0 |
| Riley Hartman | 2 | 2 | 4 | 0 | 0 | 1 |