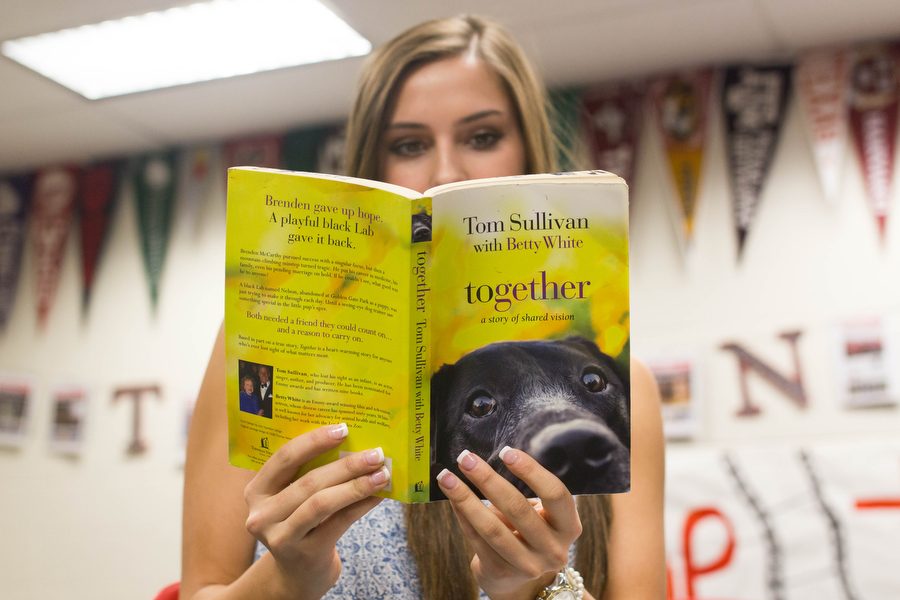 Together: A Story of Shared Vision by Tom Sullivan and Betty White is undeniably adorable. This heart-warming novel shares the story of a man who loses his sight after a mountain climbing accident and a guide dog who is searching for the right master; these two end up being exactly what the other needs and so much more.
This story not only tells the remarkable journey of the recently blinded man, Brenden McCarthy, and the black labrador guide dog, Nelson, but also teaches many life lessons. The lessons learned don't make up for the predictable and unbelievably sappy plot of the book, however. Part of the predictability lies in the fact that time doesn't seem to matter to the plot, as some aspects of the story take two seconds to magically heal wounds that would take months, even years, to correct in real life. The broken bond between a master and his dog doesn't fix itself over night ,either, but in this novel, that was the case. In addition, most guys don't propose on the first date, but of course Brenden did in this tale that read like a Disney love story. Despite these cringy plot troubles, the novel is great if you want to relax and read a cute story.
With the bad, there is always good, and with the predictable plot not being the best, the insight of how life is for blind people makes up for it. This novel goes inside the struggles newly blind people face and how difficult it is to cope with sudden change in life. It also gives a rare perspective of the day to day life of visionless people and how they deal with and do certain daily chores with special technology or just by remembering things by their other senses. It also shows how much more independent the blind can be with the help of a guide dog and how strong the bond between a dog and his master can be. The trust and love required for a seeing eye dog and his master working together is remarkable. These little insights helped this story become better and supported the plot problems.  
All in all, this two hundred and thirty page novel by Tom Sullivan and Betty White has an impeccable story that is based on real life events and will make you want to give every dog and visually impaired person a huge hug. This novel was an indisputably heart-warming story that is the perfect book to read if you want to learn valuable life lessons, love your dog a little more, respect blind people so much more, and even cry a little.