Seniors Reflect on High School Career After Making College Decisions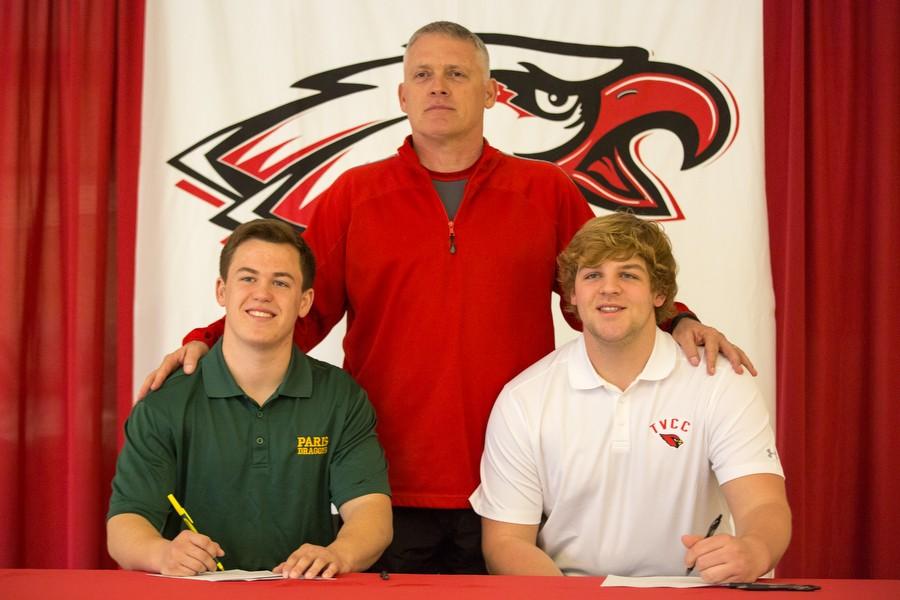 Friday night lights. He lives for the feeling, the family, and the game. Nothing will take that away.
Senior Matt Hiter signed to Trinity Valley college as an offensive lineman on Feb. 4. Hiter began his football journey in sixth grade and will continue to play well into his college career.
"I grew up around football," Hiter said. "My grandfather was the athletic director, so he influenced me to like sports."
Once Hiter reached the varsity level, everything changed for him.
"In middle school, it's slower," he said. "It's a bunch of kids that don't really know how to play. Once you get up to varsity, you are going fast. You have to go 100 percent all the time and know exactly what you are doing."
By playing on the varsity team, Hiter found his love for football and gained a strong sense of family.
"I love the energy, adrenaline, and the bond between the team," Hiter said. "By being around each other all the time, you learn a lot about every player. It's like being brothers. Everyone is a brother."
Later in his high school career, Hiter experienced the thrill of winning a state championship in 2013.
"Winning state in junior year was the best moment in football," Hiter said. "There is nothing else left in that last game."
Hiter's run through high school has not been completely seamless. When they lost the state championship in 2014, it instilled even more passion for the sport.
"I didn't want to keep playing football," Hiter said. "But, after we lost in the state championship, I needed to keep going. I didn't want to lose the game."
When his last football game ended this season, Hiter already knew his plans for the future.
"Once it was over, I realized I didn't want it to end," Hiter said. "My main goal is to be recruited to a bigger D1 school. I am going to Trinity Valley for two years then transferring to a bigger D1 school to keep playing football."
Although he has bigger plans in store, Hiter will always remember his time as a senior at Argyle.
"As a senior, I feel a lot of responsibility to the team to show leadership and guide them along the right path," Hiter said. "I want to show them what it takes to be successful on varsity, so they can do the same when they are a senior. You know that it is your last chance to win and go out on top. This has been my last time to play for Argyle, and I will remember it always."
Hiter was not the only Eagle signing to a college on National signing day. Senior Cutter McDonald, who plays in the outfield for the varsity baseball team, signed with Paris Junior College in Paris, Texas. His career at Argyle has been both long and successful. His time, while challenging, proved worth it after his college signing.
"I love the game of baseball," McDonald said. "I've enjoyed it quite a bit."
McDonald has had individual and team success. His team went to the 3A state championship last June and lost after 8 innings. His team has been very important to him throughout his career.
"My favorite part of being on the team is the athletes," McDonald said. "All the kids are really cool. It's like a family every year, and it gets better and better."
The recent signing day with Paris Junior College ended the long recruiting process for McDonald.
"It's been challenging finding the right teams to get exposure to and recruited by," McDonald said. "You've got to send a lot of emails to coaches, get a lot of exposure, go to a bunch of showcases, and play
a lot of summer baseball."
McDonald has been a part of the varsity team for the majority of his career.
"Freshmen year I got moved up to varsity during the playoffs, and I ended up playing a little bit because our outfielders got hurt," McDonald said. "I started my sophomore year."
McDonald's career is not yet over. He still has his entire senior season to look forward to. After last year's near victory, McDonald and the rest of the team are optimistic for the future.
"I'd love to end my senior season with winning a state championship," McDonald said.